Hospitality Roundtable: Labor, Market Trends Analyzed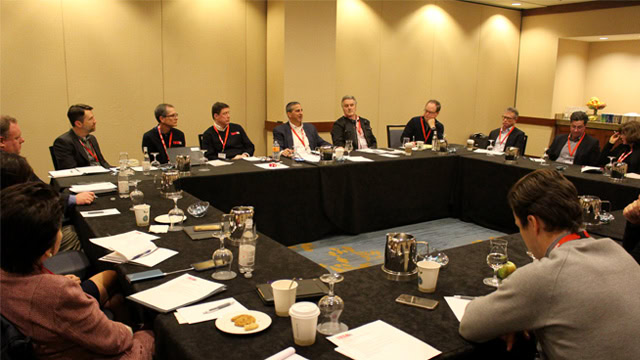 A group of 16 hotel laundry operators engaged in a lively, wide-ranging discussion of issues affecting their businesses on Feb. 3 in Las Vegas, the day before the formal kickoff of TRSA's Feb. 4-5 Hospitality Conference at the Westin Las Vegas Hotel & Spa.
The conference, which drew nearly 100 attendees, included a full day of industry educational speakers, followed by a morning in which attendees toured two cutting-edge area plants operated by Alsco Linen and Uniform Rental Services and Boyd Gaming.
TRSA President & CEO Joseph Ricci facilitated the discussion, in which operators cited strong growth in the hotel market, coupled with concerns over challenges ranging from labor shortages to determining a model for providing services to "market disruptors," in the hospitality trade, such as Airbnb and a range of comparable vacation and business rental-service programs.
One operator cautioned that costs are so tightly squeezed that unless laundries can find a way to keep pace, their enterprises could be at risk. "You've got to get past that or you won't be in business," he said.
The current cost pressures facing hospitality laundry operators are further complicated by a tight labor market. First, with a full-employment economy, competition for hourly as well as skilled tradespeople such as maintenance engineers, is fierce. Add to that, rising minimum wages, edging toward $15 an hour in many states, plus compliance costs such as "living wage" rules in certain communities such as Santa Monica, CA; and St. Louis, make it hard for laundries to meet hotels' demand to hold down the costs of outsourced laundry services.
On the recruitment/retention front, the operators discussed a range of creative options, such as recruiting prison labor through work-release programs in various areas of the U.S. TRSA Vice President of Government Relations Kevin Schwalb told the attendees that TRSA is developing a program with the prison system in California that would educate prison laundry employees to qualify for the Certified Professional Laundry Manager (CPLM) status. Gaining this credential would, in turn, make it easier for them to find a full-time job in the linen, uniform and facility services industry upon release. A similar program is in the works to train prison laundry managers in order to hone their skills and enhance their knowledge of laundry best practices.
As for laundry's dealings with customers, the notion of laundry outsourcing is making headway in the U.S. but it lags behind progress in this area made in Europe. Hotels there have largely phased out in-house, on-premise laundries (OPLs) in favor of outsourcing. Part of the challenge of educating hotel managers is a rapid turnover of hotel management staff, which complicates efforts to build effective partnerships with hotel counterparts who are in charge of managing linens for their facilities. Other concerns discussed included the reluctance of hotels that own their own linens to maintain sufficient par levels (number of days' worth of linens available when the hotel is at full capacity) in order to avoid shortages and premature wear due to overuse of linens.
On the issue of the shift in hospitality toward people renting their homes out to guests through Airbnb and similar services, this trend presents a challenge to laundries seeking to provide outsource linen services to these properties because they lack the large quantities of textiles in a central location that make it cost-effective for laundries to service this growing sector.
Ricci, Schwalb and Director of Membership and Industry Outreach Ken Koepper pledged follow-up efforts on several of these issues, including a benchmarking study aimed at encouraging hotels to see that they could maintain quality, while lowering their costs by outsourcing their laundry services.
Attendees included:
Cory Acton, Vice President of Operations, Magic Laundry Service Inc., Montebello, CA
Brian Beere, Owner, President and CEO, Single Source Plus, Bellmawr, NJ
Michael Benik, President, People's Laundry, Keene, NH
Ann Berry, Chairman, PureStar Group, New York
Eric Brady, Chief Strategy Officer, PureStar Group, Las Vegas
Bob Brill, Vice President of Operations, American Textile Maintenance, Los Angeles
Vicky Cayetano, President, United Laundry Services Inc., Honolulu
Ray Hayes, CEO, South Pacific Laundry, Bundoora, Australia,
Harry Kertenian, Owner and CFO, Magic Laundry Service Inc., Montebello, CA
Richard Marzo, Vice President, Lace House Linen Supply Inc., Petaluma, CA
Steve Miller, Vice President and General Manager, Victor Kramer Co., Seaside Heights, NJ
Julia Pooler, President, Sacramento Laundry Co., Sacramento, CA
Keith Pooler, Vice President, Sacramento Laundry Co., Sacramento, CA
Lee Stotts, Edina Laundry Co., Owner, Minneapolis, MN
Tim Williams, President and CEO, Crown Linen Services, Mexico, MO
Les Williams, CEO, Starr Textile Services, Foley, AL