Hotel Guidance and Benchmarking Report Unveiled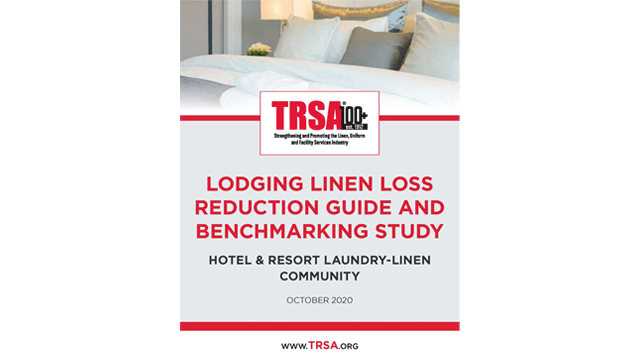 A research and guidance document for hotels and linen services now available in TRSA's online Store advises on best practices to improve hotel laundry and linen efficiencies. Lodging Linen Loss Reduction Guide and Benchmarking Study provides key metrics for evaluating hotels' performance and quality, ultimately to maximize guest satisfaction.
Developed largely from a TRSA Hospitality Conference presentation in February by Steve Miller, VP, Victor Kramer & Co., the publication's loss reduction section covers:
Identifying warning signs. Explains how to calculate cost per occupied room (CPOR), clean pounds per occupied room (POR) and serving ratios. To investigate why the first two figures may be too high and servings too low, hoteliers are guided in investigating premature discards, inconsistent linen care (wash chemistry), overzealous product-in-use quality standards and ineffective linen control and security.
Key strategies for loss control. Implementing a quality-control program, promoting linen awareness and ensuring linen security throughout the laundry cycle.
Vital inventory practices. Monitoring discards, taking physical inventory, benchmarking serving ratios, spot-checking deliveries, monitoring rewash and rejects.
Critical benchmarks. Sample CPOR calculations, serving ratios by item type, guidelines for physical linen inventories.
Must-do inventory reports. Cost to reach PAR (complete sets of linen "per available room"), perpetual recap of inventory, value of transactions, true cost of alternative PAR levels.
Linen service best practices. Maximizing the benefits of outsourcing starting with a linen service's survey and sales process, including accurately determining hotel OPL costs; constant data collection, informed support, personal relationships, clearly defined service standards, single point of responsibility.
The benchmarking report, culled from a 2019-'20 survey of hoteliers, highlights the need for hotels to produce more comprehensive data on their linen consumption and laundry operations. A total of 44 properties participated, sharing information about their:
Demographics. Rooms, occupancy, service level, location type, whether linen is processed in-house or outsourced, annual volume in pounds.
Best Practices. Means of determining laundry weight, annual linen replacement expense, loss/discard breakdown, inventory frequency, PAR levels.
Replacement Factors. Each of 14 linen and terry products' quantity purchased per year, average number of pieces cleaned per day and unit cost.
Participants received a copy of this report to benchmark their experience with demographically similar properties. The document also contains a blank form for readers who didn't participate to log their properties' metrics for the same comparison.
Readers are advised to examine data of properties with demographics that vary from theirs. A property on the same service level in the same type of location but with many fewer rooms or lower occupancy, for example, might expect to pay more for linen than a larger property, as it would likely not receive the same volume purchase discount. If this property is paying less, management should consider the possibility that the property is receiving a better deal on an equal or higher-quality product – or buying a lower-quality product.
Benchmarking the metrics covered by the study can answer whether hotels:
Have enough linen in circulation
Buy enough to keep up
Pay what they should for it
Track their inventory well
Lose more or less linen than industry norms
Maintain laundering practices and volumes typical of similar properties
Order the Lodging Linen Loss Reduction Guide and Benchmarking Study at www.trsa.org/store for details.