Hotel Industry on the Rebound in Latest Report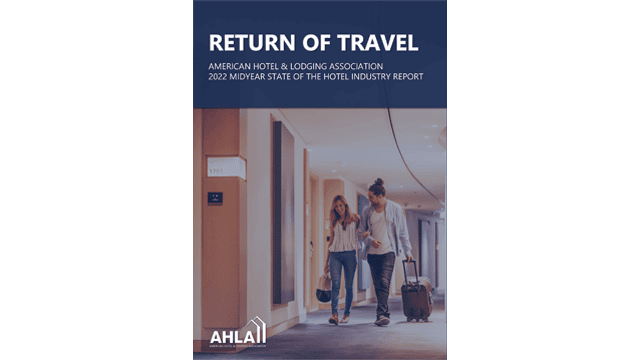 The American Hotel and Lodging Association (AHLA) recently released its Midyear State of the Hotel Industry report, which includes updated forecasts on hotel performance, as well as the latest on trends in hotel investment and traveler sentiment. The report includes exclusive data and analysis from Oxford Economics, STR, Avendra and JLL, plus survey research conducted by Morning Consult, according to a news release.
Key findings in the report include:
Hotel occupancy is expected to average 63.4% in 2022, approaching pre-pandemic levels
Hotel room revenue is projected to reach $188 billion by the end of this year, surpassing 2019 levels on a nominal basis
By the end of 2022, hotels are expected to employ 1.97 million people—84% of their pre-pandemic workforce
Hotels are projected to generate $43.8 billion in state and local tax revenues in 2022, up 6.6% from 2019
47% of business travelers have extended a business trip for leisure purposes in the past year, and 82% say they are interested in doing so in the future
To read the full report, click here.