Hotels – A Period of Growth, Change and Disruption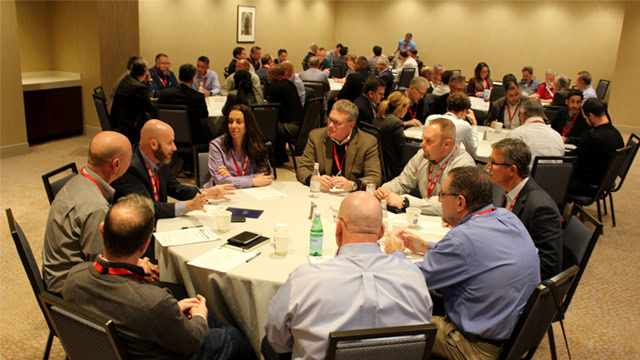 The roughly 100 attendees who turned out for TRSA's Second Annual Hospitality Conference got a 30,000-foot view of a hotel industry in the throes of rapid change and innovation from consultant John Burns.
The conference's keynote speaker, Burns' talk was titled "The Hotel of the Future." He gave attendees a detailed overview of shifts in the hotel trade, including waves of growth and consolidation among the large national/international chains such as Hilton, Marriott, Accor, Best Western International and others.
Like the rest of the economy, hotel chains and independents—an increasingly disruptive force that's triggering a major rethink of major company strategies—have grown steadily over the 11-year expansion that followed the Great Recession of 2008-'09.
Yet like other business that require lots of people to provide services for guests and other aspects of the operation, hotels have struggled with labor shortages. This could have a mixed impact on laundries, Burns said. On one side, it could clear the way for more laundry outsourcing to save money and, as importantly, labor. However, at the same time, the tendency at most hotels is to expect vendor/partners to do more with less. The issue of growth is a mixed blessing for hotels in that while demand is up, revenue per available room (Revpar) has bumped along for nearly a decade with minimal growth, thus keeping profitability pressures at a high level.
The hotel industry also is facing a wave of disruption from the "sharing economy" in the hospitality market space. This includes Airbnb and a host of similar vacation rental and other alternatives to conventional hotels. "When Brian Chesky and Joe Gebbia decided to make some extra money by renting several air mattresses on the floor of their San Francisco apartment in 2007, no one could have guessed that it would lead to Airbnb and the array of companies across the globe who offer similar accommodation," Burns said. Today, Airbnb boasts 150 million users worldwide and some 500 million-plus stays. "On any given night, 2 million people are staying in Airbnb rentals across the world," Burns said. An initial public offering of Airbnb is anticipated sometime this year, he added. Significantly, Airbnb is beginning to tap business travelers as well as vacationers seeking a different kind of lodging experience. When Burns asked for a show of hands of attendees who'd stayed at Airbnb properties for business travel, several hands went up.
The decentralized nature of Airbnb makes it a challenge for laundries to service its linens on an outsourced basis. But new opportunities in that area could arise as the business grows, he says. To succeed in this era, hospitality laundry operators must be nimble and quick to show hotel vendors they'll meet the requirements.
Other market shifts that Burns emphasized was the attitude toward travel that young people – specifically millennials and members of the Gen Z cohort – have toward business travel. Their influence is fueling the rise of new hotel concepts focused on issues such as "wellness," "adventure," "micro" and other niches, Burns says. Many young travelers are looking for "Instagrammable" moments associated with hotel stays. To meet these demands, hoteliers are having to leave behind some hidebound positions of the past in order to survive. For laundry operators, that means that "You are now working with larger, more sophisticated clients with broader, more specific and more stylized requirements."
Burns closed on a somber yet thought-provoking note. While the economy continues to show strength, inevitably the market will experience a downturn, probably sometime in the next two years. There will be a shakeout that will impact the hotel industry in ways that are hard to predict. One aspect that's unlikely to shift even if the economy stalls badly is the hotel industry's commitment to sustainability. This trend is driven in part by the international movement toward the "circular economy," particularly in Europe. Again, as recyclers of linen, environmentalism could and should play to laundry operators' strengths – provided they're aware enough to demonstrate their commitment to conservation.
Other education programs during the Hospitality Conference included:
An overview of growth statistics and trends from consultant Ali Hoyt, senior director of consulting and analytics for STR, a hospitality research firm.
A series of facilitated roundtables in which operators met in groups of 6-8 to discuss a range of issues related to outsourcing, customer relations, recruitment/retention and similar issues of common concern.
A review of legislative and regulatory issues from TRSA Vice President of Government Relations Kevin Schwalb. Schwalb focused on federal issues, such as efforts by Congress to restrict polyfluoroalkyl substances (PFAS) used in fire-retardant foams and some fire-resistant uniforms. He also addressed environmental, tax and other concerns in various states and cities such as New York, Texas and Indiana.
A presentation by consultant Larry Wilhelm and TRSA's Ken Koepper on a new benchmarking effort designed to encourage outsourcing by assembling financial information on a confidential basis from hotels. Work is continuing on this effort to get more data for review.
A presentation by Steve Miller, vice president of Victor Kramer Co., on linen-loss prevention methods and strategies.
Information on customer attitudes in a panel discussion dubbed "What Customers Really Want." The panelists included Chris Breed, vice president of resort operations, Soleil Management; Eric Eisenberg, director of Hotel Operations, Boyd Gaming and Diane Gandy, president of the Nevada Hotel & Lodging Association. Terry Satchwell, executive vice president, PureStar Linen Group, moderated the discussion.
After the educational sessions, attendees enjoyed a reception with heavy hors d'oeuvres and networking in a larger hotel meeting room. The following day, attendees joined with those attending the inaugural Food & Beverage Conference to see two high-profile laundries, Alsco Linen & Uniform Rental Services in North Las Vegas and Boyd Gaming Linen and Uniform Service in nearby Henderson, NV. Watch for additional follow-up coverage shortly.