Hr Bjorkmans Strengthens its Position in Stockholm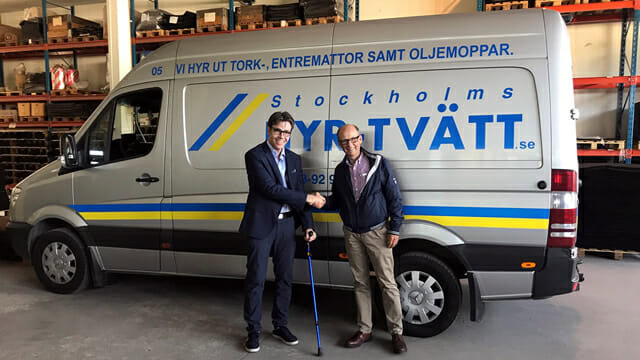 TRSA international member Hr Bjorkmans Entrémattor AB, Malmö, Sweden, recently expanded its service area in Stockholm and the surrounding areas by acquiring Stockholms Hyr-Tvätt AB, according to a news release.
Founded in 1993, Hr Bjorkmans Entrémattor is one of the largest Swedish companies in the mat rental industry with 43 employees. The company is well stablished in several locations in Sweden, mainly in the southern part, and this acquisition strengthens its position in the Stockholm region.
"Through this acquisition, we are now able to produce locally at our own laundry facilities in Stockholm," said Carl-Johan Björkman, founder and CEO of Hr Bjorkmans Entrémattor. "At the same time, we are increasing our fleet of distribution vehicles in the region, making our distribution more effective and providing even better local service to our customers. Our company is expanding rapidly, and one of the main reasons for this success is our consistent environmental commitment."
At the company's state-of-the art laundry facilities on the outskirts of Malmö, the mats are cleaned in a patented, biotechnological process, saving on both water and energy. The water is recycled in a closed system, consuming only 20% of the amount of water used by traditional laundries. The chemicals have been replaced by biological cleaning by 90%, and 50% of the energy consumption comes from the solar panels on the roof. Since 2005, all the distribution vans are powered by biogas. The company's determined environmental effort was awarded in 2014 with EMAS (Eco-Management and Audit Scheme), the EU's prestigious environmental award.
"I'm convinced that Hr Bjorkmans Entrémattor will be a good and stable owner," said Magnus Wikzell, who transferred his company Hyr-Tvätt to Carl-Johan Björkman on July 2. "I've known Carl-Johan more than 25 years and I know that he always focuses on offering his customers the best possible service and quality."
For more information, contact Carl-Johan Bjorkman at +46.40.187272 or go to www.hrbjorkman.se.