Hr Björkmans Unveils State-of-the-Art Stockholm Plant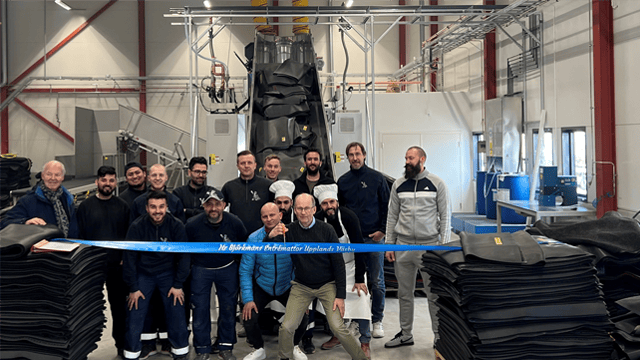 Hr Björkmans Entrémattor has saved another 4.5-million liters (1.2-million gallons) of water after opening its newly-built Stockholm plant, according to a news release.
"Water is a resource that we cannot take for granted. For this reason, it is necessary to minimize its use to limit the extraction of groundwater," said Carl-Johan Björkman, CEO, Hr Björkmans Entrémattor, which, thanks to a combination of acquisitions and organic growth, has established itself as one of the major laundries specializing in the mat rental business.
The company's proprietary and patented recycling technology is used at the company's production facilities in Arlöv outside Malmö, Sweden; Kalix, Sweden; and, since April 1, at the new plant in Upplands Väsby, Stockholm.
"In total, our company's annual water savings is 14-million liters (3.7-million gallons) of water," Björkman said. "We calculate these savings based on the limits set by the well-known eco-label, Svanen. The savings is equal to six full 50-meter (164 feet) swimming pools annually."
The water recycling involves biologically cleaning the water after the wash process and reusing it for the next wash. The water consumption at Hr Björkmans Entrémattor can thus be kept to a low 0.45 liters (0.12 gallons) per kg of laundry, compared to Svanen's benchmark 6.5 liters (1.72 gallons) of water.
"Therefore, it was obvious to install our water recycling technology in our new plant in Stockholm as well," Björkman said.
Hr Björkman's Entrémattor has invested more than ten million krona ($1 million) to obtain a state-of-the-art plant in the Stockholm region, which can satisfy increasing customer numbers and growing volumes. The company can now continue to expand at the location, covering some 1,300 square meters (13,993 square feet) of floor space.
The new plant also means that all production, and almost all of the distribution, at Hr Björkmans Entrémattor has been free of fossil fuels since April 1.