Huebsch COVID-19 Response Reprises 1918 Flu Role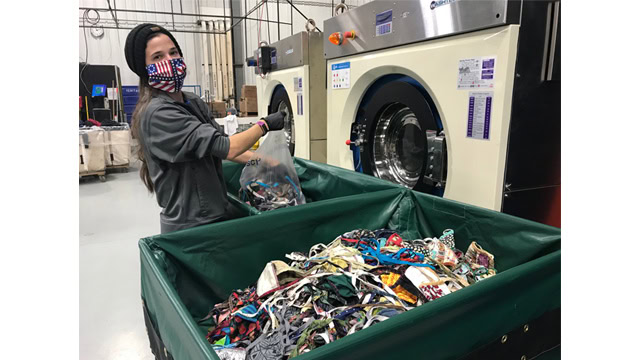 Like many linen, uniform and facility services companies, Huebsch Services is doing its part during the COVID-19 crisis. Among other efforts, they're producing protective masks in-house for their employees. What's different about Huebsch, a family-owned business based in Eau Claire, WI, is that this 129-year-old company mounted a similar response during a devastating outbreak of the Spanish Flu in 1918. In both 1918 and 2020, their goal was the same: protect their staff and the community.
By the time the Spanish flu took hold in 1918, Huebsch Services had already operated for 27 years in the Eau Claire community. The influenza pandemic quickly spread, infecting an estimated 500 million people, or about a quarter of the world's population. Between January 1918 and December 1920, it's estimated to have killed as many as 50 million people worldwide.
Even then, Huebsch viewed the health and safety of its staff as a top priority. In October 1918, when an estimated 21 cases of the Spanish Flu were documented in Eau Claire, Huebsch made the decision to start making face masks to protect its employees. A local newspaper quoted John Huebsch, founder of Huebsch Services, as saying, "If one individual is thus saved from the disease, the effect will be repaid."
102 years later, Huebsch Services continues to serve the local community as a commercial laundry, and now it's once again operating in the midst of a viral pandemic. As the Huebsch Services leadership team was putting plans in place to keep employees safe, the discussion again turned to personal protective equipment (PPE). Amid a worldwide shortage of PPE, Huebsch once again developed a plan to make masks for its employees. This week, the goal was for every Huebsch employee to receive multiple fabric face masks to provide them and their families with protection from the virus. To help stop the spread of COVID-19 in its service areas, Huebsch employees will wear fabric masks while working in Huebsch facilities and servicing customers in the business community.
"The words of my great-grandfather John Huebsch still ring true today," said fourth-generation President and CEO Jim Vaudreuil, who also serves on TRSA's Board of Directors. "We have been in business for 129 years and throughout that time our focus has always been on helping others. If making fabric face masks for our employees protects one person from this disease, it is worth it."
In addition to producing fabric face masks for employees, Huebsch also is supporting the Mask Beez community, a volunteer face mask-sewing initiative in the Eau Claire area. To date, Huebsch has picked up, laundered and delivered 4,517 new fabric face masks for the medical community.
Huebsch serves over 6,000 customers in the West Central Wisconsin and metropolitan areas of Minneapolis and St. Paul, MN, from locations in Eau Claire and Eagan, MN. The company specializes in the sales and service of work uniforms, floor matting and facility supplies.