Huebsch Earns Business of the Year Award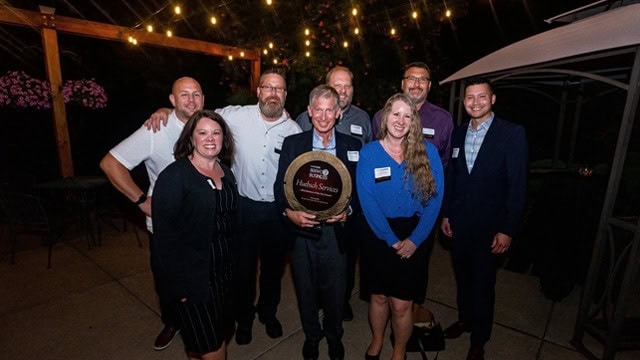 Huebsch Services, Eau Claire, WI, received local "Business of the Year" honors at a Sept. 14 ceremony, according to CEO/owner Jim Vaudreuil and local news reports. The Eau Claire Area Chamber of Commerce sponsors the countywide program, which honors businesses in five categories, including "Business of the Year" for companies with 50 or more employees.
"We won an award last night," said Vaudreuil, the fourth-generation CEO/owner of Huebsch, a family-owned business founded in 1891. "We're proud of that."
At the ceremony held at the Florian Gardens Conference Center in Eau Claire, Chamber President David Minor noted that the organization has given out awards in its "Bravo to Business" program for 30 years. The awards are unique because members of the community help nominate companies in several categories. "Anybody can nominate any business," Minor said. "We had close to 70 nominations. Easily two-thirds of those came from citizens, just people saying, 'I think this is a great business.' So they're showing that support. The awards themselves talk about that. It's about showing what businesses are succeeding and how they are doing it and the importance of supporting them."
The other categories in the awards program include "Small Business of the Year (less than 50 employees), "Emerging Business of the Year," "Community Economic Development Project of the Year," and "Young Professionals Best Place to Work."
Minor said the various categories showcase the full range of successful businesses in this community in northwest Wisconsin, roughly 90 minutes east of Minneapolis, "It's fun to see those companies talk about their heritage and what made them start here, but more importantly, what made them stay here. Why they want to see this area grow," Minor said. "That's what these awards help do. Not only celebrate those businesses, but it talks about why businesses should look at wanting to relocate to the Chippewa Valley area."
While companies can nominate themselves for the awards, Vaudreuil said Huebsch was nominated by someone from outside the company. When asked why he thought the company was chosen, he said there could be a range of factors, but the company's commitment to the environment, including its use of a solar power system to help generate electricity for use by the industrial laundry, was a likely factor. "I think one of the things that they look at is what you're doing for sustainability." Click here for details.