Hurricane Ida: Laundry Cleanup/Rebuilding Revs Up … Again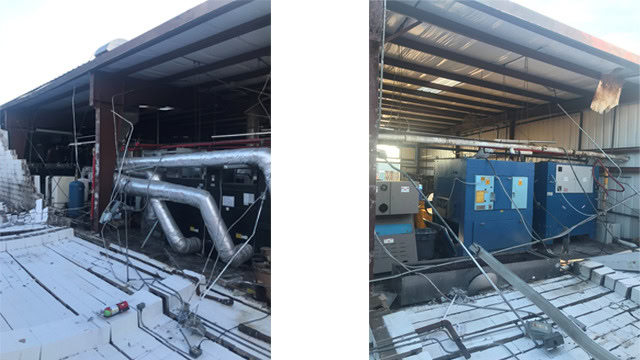 To say, as many have, that Hurricane Ida wasn't as devastating as previous storms, especially Hurricane Katrina, which struck the Louisiana coast on the same day 16 years earlier, provides little comfort to laundry operators and at least one supplier partner, Pellerin Milnor Corp., that were impacted by this latest hurricane to strike the Gulf Coast region of Louisiana and Mississippi.
While several area operators we contacted, including Milnor, reported that they experienced minor damage – aside from losing electricity and water services – at least one area company, Ventura Uniform Service Inc., Kenner, LA, confirmed that it received a devastating blow from Hurricane Ida, a category 4 storm that made landfall on Aug. 29 and ranks among the worst hurricanes to hit the Gulf Coast since Katrina.
"Unfortunately, we were not spared from Hurricane Ida," said Ventura Uniform President Robbie Ventura. "The laundry incurred absolute devastation."
Talk about drawing the unluckiest hand – the damage that Hurricane Ida brought to Ventura Uniform means that the company now must undertake its third major rebuilding effort since 2005. "The road to recovery will be hard and long," Ventura said. "As you know, we have lost our laundry three times – Hurricane Katrina, a major fire (September 2013) and Hurricane Ida."
Yet there is a ray of sunshine in the Big Easy. Ventura informed us late Thursday that within 24 hours a construction crew had arrived from Florida. "Fourteen guys … already took the back wall apart for disposal and put up temp walls," he said, adding that a cleanup, reset and resupply of the laundry is now underway. Ventura credited his insurance agent's prompt, proactive action that's allowed the company to jump-start Ventura Uniform's rebuilding process.
As for Milnor, Rick Kelly, vice president of sales & marketing for the equipment manufacturer that's also based in Kenner, emphasized that damage to their plant was minimal and that operators needing parts or service could rely on the company's dealer network until the headquarters gets its utilities restored in the next few days. "While we are still waiting for water and electricity to return to service, we anticipate parts-order fulfillment to resume within the next two days," the company said in a Sept. 1 news release. "We are actively working with logistics companies to resume shipments of orders. In the meantime, our industry-leading dealer network across North America and the world are in full operation, providing technical support, and they have an inventory of spare parts."
Other area laundry leaders that we contacted after the storm told a similar story of limited damage, but all were disheartened at having to repeat a cleanup/repair process at a time when businesses were working to recover from the COVID-19 pandemic. "I am really getting tired of these catastrophic events," said Charles LeBourgeois, president of TLC Linen Services Inc. in New Orleans. His plant was flooded during Katrina. This time the damage was minor. "TLC buildings are OK," he said. "We had some water enter the buildings from above. We will need to have the roofs of both buildings carefully inspected."
LeBourgeois says he is servicing those customers that are still operating with existing inventory. He has contacted other laundries that have power to process the remaining soiled goods until electricity is restored. "We have lots of F&B linen ready to go out," he said, noting that power is expected to return to New Orleans shortly. Bringing labor back into the plant poses another challenge. Many employees have experienced their own problems with flooding and power outages and have yet to return to work.
The story was similar at other facilities we contacted. Eddie Lefeaux, CEO of Westport Linen, Baton Rouge, LA, confirmed the company's Townsend Place plant in New Orleans received minimal damage, but had lost power. The plant, which was flooded during Katrina, had its electricity restored on Aug. 29 with a generator that's running on diesel fuel diverted from the company's fleet vehicles. Lefeaux expects that supply to last 21 days. He added that a contractor is available to provide more fuel if needed. The company also is helping employees whose homes were heavily damaged by the hurricane.
On Sept. 2, Lefeaux said he loaded his personal vehicle with scrubs and drove them to hospitals and other facilities that weren't receiving service from other companies. For others in the area, the situation remains critical. "As of today (Sept. 3), we still have over 300,000 business and residences out of power for possibly 90-plus days."
Another operator, Starr Textile Services CEO Les Williams said that his New Orleans-area plant on Time Saver Avenue in Elmwood, LA, escaped major damage from Ida. "Starr came through fairly unscathed," Williams said. "All employees are safe and no damage to speak of." Utilities were off at the plant and Williams said their company had shifted work to a sister facility in Alabama until conditions stabilize. Most area hotels are closed or are offering limited service due to the loss of utilities.
Stay tuned to Textile Services Weekly and Textile Services magazine for more coverage of Hurricane Ida's impact on the linen, uniform and facility services industry, and the ongoing recovery efforts in the aftermath of the storm.