Hygienically Clean Launches Redesigned Website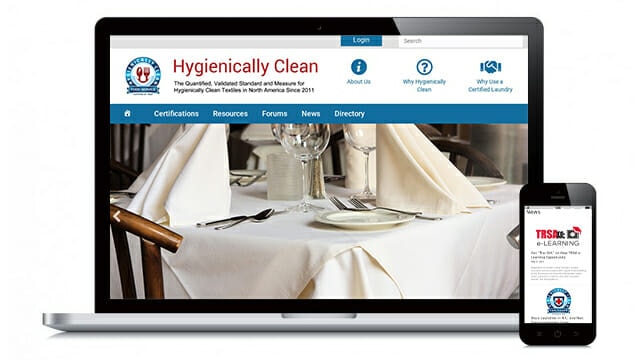 Hygienically Clean, the quantified, validated standard and measure for hygienically clean textiles in North America since 2011, has unveiled a newly designed website that is now live at www.HygienicallyClean.org.
The new website represents the Hygienically Clean Healthcare Advisory Board's and the TRSA Healthcare Committee's commitment to provide easily accessible, informative and educational resources for laundries and their customers regarding the Hygienically Clean certification programs: Healthcare, Hospitality, Food Safety and Food Service. The look and navigation of the website is clean and fresh, and information can be easily accessed from all types of devices, from desktops to tablets to smartphones.
HygienicallyClean.org offers easy access to resources such as consulting services, testing protocols, training videos and webinars. The members-only portion of the website includes access to an interactive forum and searchable archives for the TRSA Textile Services magazine's numerous articles and reports on laundry and linen-management practices regarding the proper processing and handling of linens and uniforms.
Prospects interested in engaging a Hygienically Clean-certified laundry will be able to instantly search the current certified listings by state, city or laundry name. The home page also hosts a chat feature which allows for real-time discussion of any pressing Hygienically Clean questions.
To learn more about Hygienically Clean programs, please check out the "About Us" page at www.HygienicallyClean.org. If you'd like to learn more on the benefits of your laundry becoming Hygienically Clean certified, contact Angela Freeman, manager, certification programs, at 703.519.0029, ext. 111, or email afreeman@trsa.org.