Hygienically Clean: TRSA Exhibits at AHE Conference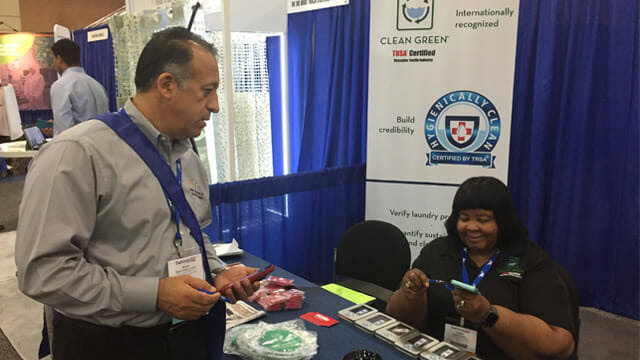 Exhibiting Hygienically Clean Healthcare at the annual Association for the Healthcare Environment (AHE) Conference Aug. 15-16 in San Antonio largely enabled TRSA staff to promote the designation to decision-makers and influencers in the purchasing of healthcare laundry services. The roughly 100 visitors to the certification display were informed about why their hospitals and other medical facilities should consider only such certified laundries when selecting such a service.
These laundries were the prime beneficiaries of the exhibit, especially when staff spoke to attendees on the verge of signing new linen service contracts. Staff also prompted visitors whose facilities maintain on-premises laundries (OPLs) to consider shutting them down, highlighting outsourcing as the superior alternative to OPLs, supporting all outsourced healthcare launderers.
Other exhibitors promoted the industry, too, with their presence. Cintas Corp., for example, had its usual double booth displaying a variety of products and services. MEDtegrity Healthcare Linen and Uniform Service showed how its network of local and regional operations can serve national accounts.
This subtle pitting of outsourced laundries against OPLs was tame compared with the conflict playing out across the trade show floor between suppliers of reusable textiles and disposable equivalents, especially privacy curtains and mops.
In an exhibit booth adjacent to the Hygienically Clean display, On the Right Track Systems promoted its disposable curtains. The company touted its polypropylene fabric for its recyclability with surgical draping and other Class 5 items used in hospitals. Lacking conventional hooks, carriers and tracks, the system features proprietary grabbing technology that keeps hands off and saves time. Textile curtains with these same features are also available from the company.
A few aisles away, Curtain Care Plus, which is building a national reusable curtain service network (laundry included), discussed their ability to create custom curtains using any commercially available fabric. Curtains are constructed with built-in hooks or grommets for standard or break-away hook mounting. Key features are double-rolled mesh seams, full-framed mesh borders in matching fabric and commercial-grade stitching including turn-locking.
Across the aisle from the Hygienically Clean exhibit, disposable mop manufacturer Geerpres quoted the American Journal of Infection Control (AJIC)'s conclusion that Clostridium difficile (C. diff) and other pathogens are found in 44 percent of patient rooms after cleaning and 53 percent when occupied. The company touted its products' removal of cross-contamination risk compared with microfiber structural breakdown or pathogen retainage in a poorly laundered reusable mop.
Cintas countered with its flyer dispelling myths of disposables, noting the lack of a credible study showing a direct correlation between disposable wipes or mops and lowered healthcare-associated infection (HAI) rates. They also took exception to American Journal of Infection Control reports of studies that claimed:
Reusable microfiber prematurely loses its cleaning efficacy
It can't be laundered effectively to remove microbes
Hospitals save 20 minutes per room of cleaning by substituting disposable microfiber wipers for their reusable counterparts
TRSA Associate Member Prime Medical carried the torch for reusables. Using BioSmart fabric from Milliken, Prime Medical provides reusable curtains, scrubs and lab coats whose barrier properties are recharged when washed with bleach. Chlorine is bound to the fabric to inhibit growth and spread of odor-causing bacteria and viruses.
Other TRSA associates exhibiting at the show included Ecolab (variety of products for hand and environmental hygiene, patient and equipment surgical draping, fluid management), MIP (all reusables), and Medline (reusables and disposables).
In addition to distributing the Hygienically Clean standard and other documents directly related to it, the certification's exhibit carried on the tradition of assisting customers in handling linen properly when they receive it. The Six C's of Handling Clean Linen in a Healthcare Environment training program for hospital staff, provided on a flash drive, made its AHE premiere. The program's companion for soiled linen was available to attendees as well. They also were able to pick up copies of the Laundry Tour Planner for Healthcare Professionals to guide their visits to outsourced laundries.