ImageFIRST Processes Pediatric Gowns Made by 11-Year-Old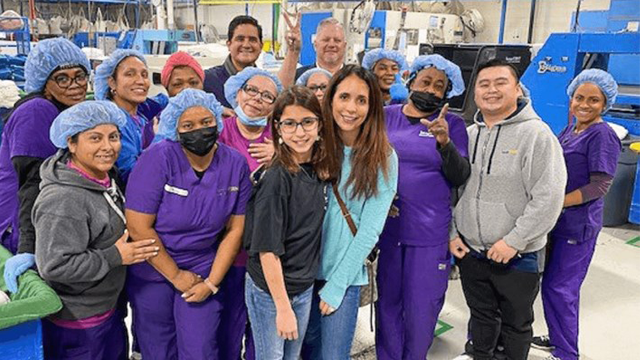 ImageFIRST Healthcare Laundry Specialists, King of Prussia, PA, recently was contacted by G's Giving Gowns, a foundation based in New Jersey that provides handmade pediatric gowns for children fighting pediatric cancer. Giuliana D., the 11-year-old president and CEO, sought out ImageFIRST to sanitize and package 50 hospital gowns so they could be delivered to pediatric patients safely, according to a news release.
The 11-year-old entrepreneur started her journey after attending a fashion school camp where she discovered her passion for sewing. When a cousin was diagnosed with cancer at only 10 months old, Giuliana was inspired to design her own line of pediatric gowns as she recalls the impact that a cheerful, child-themed gown had on her cousin. Upon creation, the gowns are donated to children with cancer across the U.S. and Canada. As G's Giving Gowns has grown, Giuliana realized that while her gowns were colorful and cheerful, she had no guarantee that they were safe for patient use.
Giuliana and her mother, Vanessa, contacted ImageFIRST to inquire about the possibility of laundering her handmade gowns in their commercial laundry facility. ImageFIRST was eager to support Giuliana's impactful mission by utilizing their facility to properly process and package the handmade gowns.
Upon receipt of the gowns in the Clifton, NJ, ImageFIRST location, ImageFIRST associates handled the handmade gowns with "Mother's Care" and upon completion of the wash and sanitization process, they individually plastic-wrapped each patient gown to ensure they remained clean during transport — a practice applied to all gowns from ImageFIRST.
Jim Kennedy, regional general manager at ImageFIRST, invited Giuliana and Vanessa into the facility for an operations tour and to obtain the professionally cleaned gowns. A donation of $1,000 also was presented to the 11-year-old to support her mission.
"Giuliana is a remarkably impressive person, and we are honored that she trusted ImageFIRST with her special handmade gowns," Kennedy said. "We are delighted to be partnered with her and look forward to a fruitful relationship — consisting of many future pediatric gowns prepared and cleaned with love and care for their intended patients."
In a note to Jim and the ImageFIRST team after her visit, Giuliana writes: "Thank you ImageFIRST for applying your 'family standards' and 'mother's care' to all 50 of my handmade pediatric hospital gowns. They are now ready for the hands of some very special brave children who are fighting cancer. Thank you for going above and beyond for my cause and welcoming me like family."
ImageFIRST is preparing for a continued relationship with G's Giving Gowns to ensure that the future gowns hand-produced by Giuliana are properly laundered and handled for pediatric patients' safety. Upon receiving the donation of $1,000, Giuliana has her sights set on her next project – partnering with organizations such as Roar Philanthropy, A Moment of Magic Foundation and pediatric medical facilities to supply her handmade, colorful gowns for patients nationwide.