Industry Execs Gather In-Person for the 108th Annual Conference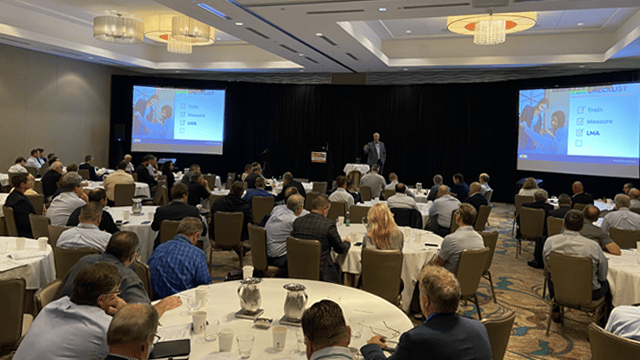 More than 170 linen, uniform and facility services executives met in person on Oct. 19-21 at the Cape Rey Hilton Resort in Carlsbad, CA, for TRSA's 108th Annual Conference.
A trio of keynote speakers covered a wide range of topics including opening session speaker Mike Paton, who discussed the "Six Keys to Getting What You Want from Your Entrepreneurial Company" and provided signed books, free of charge to all conference attendees. Paton also offered a highly anticipated and well attended bonus interactive workshop. On the final day of the conference, retired Air Force General Lori Robinson shared stories of leadership and diversity challenges and successes as the first female officer in the history of the U.S. Armed Forces to command a major Unified Combatant Command. Gen. Robinson followed up with a question-and-answer session where attendees asked poignant questions about her experiences and thoughts on current security topics in the U.S. and abroad.
The closing keynote featured Roshan Mendis, senior vice president and co-founder of Lazy Dog Restaurants LLC, who shared his story of developing an expanding restaurant chain that focuses on community. Mendis and his team continue to build the chain, now with 43 locations across the country, and shared that the driving force behind Lazy Dog's success is nourishing relationships. "By making memorable connections between teammates, vendors and guests you will win over and over again," Mendis said.
Industry specific breakout and general sessions rounded out the education offered at the conference. Topics covered included tactics for converting turnover and engagement to dollars; investing in diverse suppliers, customers, partners and networks; advanced management techniques; and top leadership tips to name a few.
"The conference was a great success," said TRSA Chair Noël Hammer Richardson. "From our speakers to the breakout sessions, attendance was strong. I believe everyone enjoyed reconnecting, sharing stories and participating in the conference, and feels the value of our association and the importance of being a TRSA member."
Spouses and partners had the opportunity to explore the beauty and tastes of Carlsbad. TRSA offered a guided nature walk along the Pacific Ocean with a park ranger who highlighted biological and coastal California tips for the guests. A three-hour walking foodie tour took 22 guests through a tasting tour of downtown Carlsbad with food-and-beverage savvy historical guides sampling six unique tastes at local restaurants, and offering a glimpse into Carlsbad's history and culture.
TRSA honored industry leaders with Wednesday night's Industry Awards Dinner celebrating the winners of the following awards:
Above and Beyond Service
Best Plant of the Year
Clean Green Innovation
Company Community Service
Diversity Recognition
SafeTRSA Safety Excellence
Video Award
Volunteer Leadership
On Thursday evening, the accolades continued when Hammer Richardson presented the TRSA Operator Lifetime Achievement Award to Bob Brill of American Textile Maintenance, and the Maglin/Biggie TRSA Lifetime Achievement Award to Terry Shoreman of Amtex Innovations (and longtime WSI CEO) and Steve Tinker of Gurtler Industries. Additionally, outgoing Board Member and Immediate Past Chair Jim Buik, Roscoe Co., was recognized for his time and commitment to TRSA and the linen, uniform and facility services industry.
The business portion of the conference closed on Thursday afternoon culminating with a fun and festive networking event, a Guacamole and Street Taco Challenge, where members were split into teams to develop their own special recipe and were judged by the hotel chef for bragging rights. A local craft beer truck and specialty margaritas were available and lawn games like corn hole and putting contests gave attendees time for friendly competition.
Liz Remillong, vice president, Crothall Services, summed it up when she said that, "The San Diego conference was fantastic, not only was the weather and location outstanding, but the mix of people and speakers as well – we learned so much. Everyone was in a great mood getting back together. Don't miss another one, this is the best."