Interactive Forum: How to Deal with 'Workplace Burnout'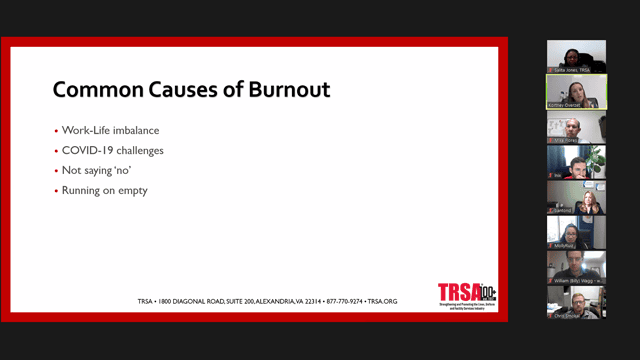 We've all been on flights where the flight attendant tells you that if there's a loss of air pressure, oxygen masks will drop and you're supposed to put your mask on first before assisting anyone else.
Applying that principle to your work life – i.e., taking care of yourself so that you can do your job better and with reduced stress – was the theme of a one-hour interactive informational forum held on Aug. 30. The program, titled "How to Cope with Burnout in the Workplace," was sponsored by TRSA's Diversity, Equity & Inclusion (DEI) Committee. DEI Committee Chair Kortney Overzet led the presentation. She is also director of people operations & culture for Spindle, Woodridge, IL. Overzet noted that employee burnout is common in today's business environment. While not a medical condition, the sagging spirits of overwrought employees can impact work and personal relationships, along with job performance. If left unchecked, it also can contribute to health problems.
The Aug. 30 forum was the first in a three-part "Safe Space" series of interactive sessions on workplace-stress management organized by the DEI Committee. In last week's session, Overzet offered the attendees strategies on how they can recover from the feeling that they're "running on empty" and lacking the energy and motivation to do their best at work.
Overzet began by exploring why such attitudes are rife in today's workplaces. A mother of two young boys, she acknowledged that at times she's experienced "struggling moments" of her own. If you think about it, it's no surprise that people feel exhausted, when for many months they've dealt with:
Fewer staff (often due to layoffs from business downturns) that have forced the remaining employees to wear multiple hats.
Economic pressures stemming from the business downturn that make you feel that you have to work that much harder to survive in a challenging.
Loss of work/life balance. Pressures build as many employees have felt they had little or no control of events. "It can take a toll on you," she says. "You feel that drain."
How should a person fight back against burnout? The program featured two interactive exercises in which attendees were asked to grapple with the issues behind burnout. In one, they were asked to draw a circle on a piece of paper and place inside the circle various thing that they can control, such as direct-job responsibilities, while other items, including the impact of recent business fluctuations, would go outside the circle. In a second exercise, attendees were asked to draw up a three-part list. The first topic heading was "Today I must" … attendees were asked to list there the most critical activities for that day. Next was "If I have time today" … here, attendees could write down items on a lower-priority scale, but still important. A third heading asked attendees to identify items that "can wait for another day."
During the interactive program, several attendees shared their experiences related to workplace burnout. One cited a proliferation of meetings. This in turn, was making it difficult for him to complete key tasks, and this was generating stress and fatigue. Another attendee cited his experience at TRSA's Executive Management Institute (EMI). He noted how the training on delegation that he received at EMI was helping him balance his workload by getting more help from colleagues. A third participant cited recent high turnover and "no show" actions by employees. While such activity may benefit those employees who leave jobs they don't like, it puts added stress on the remaining staff who must make up the difference for missing colleagues.
How can managers cope with these trends? Overzet offered a number of tips aimed at helping people work through the challenges common to today's workplace environments. You can start by accepting that the pressures you're feeling are real and try pursuing conscious steps to boost your mental and (by extension) your physical well-being, she said. Overzet suggested several ideas, such as:
"Lean on your community" if there's a supervisor or colleague that you feel comfortable discussing your situation with and could help relieve your sense of fatigue – do it. Chances are you're not the only person who's feeling overwhelmed at work, especially in the current atmosphere.
Increase your physical activity: you can start small and build up but try something that works for you: yoga routines or taking walks are fine. If you're comfortable with something more vigorous, like tennis, it can help get your mind off work-related pressures that are fueling your sense of feeling burned out, she said.
Practice 'mindfulness': This doesn't necessarily mean formal meditation, but rather seizing the opportunity to step back from your routine, which is likely fueling your fatigue. Set priorities. Make a list; revise it as needed, but don't lose focus on taking care of yourself.
Accept that you can't control everything – focus instead on what's within your purview. Do what you can and let the rest go. This could ease your sense of exhaustion, she said.
Later this month, the DEI Committee will cue up its second forum in this series. Slated for Sept. 29, this session is titled "Workplace Harassment: Interactive Virtual Workshop." Click here for details. The third forum, "How to Cope with Stressful Times," is scheduled for Nov. 3. Click here for details.
The TRSA DEI Committee, along with Strategic Insight Partners, are offering a special incentive for attendees to participate in all three of these interactive programs: a free book: The Awesome Human Project: Break Free from Burnout, Stress Less and Thrive More at Work and in Life. Published earlier this year by Nataly Kogan, it lays out an inspiring program for mastering workplace stress and leading a happier, more successful life. Click here to learn more.