International CEOs Talk Industry Trends and Growth Opportunities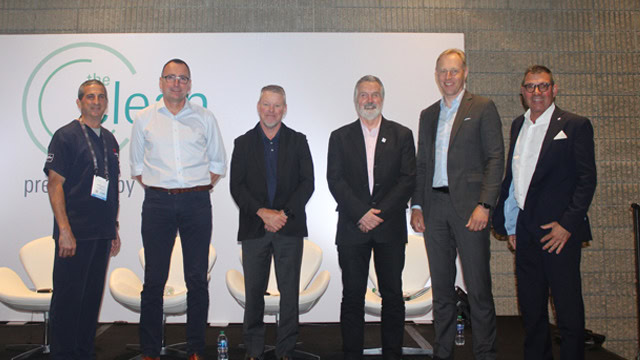 TRSA continued its international theme on the second day of The Clean Show in Atlanta with a lunchtime panel of CEOs from worldwide leaders in the linen, uniform and facility services industry.
Panelists included Peter Egan, CEO, Johnson Service Group PLC; Ray Hayes, executive director, SPL Holdings Australia; Andreas Holzer, managing director, Bardusch; Jim Kearns, executive vice president and CFO, Alsco; and Juha Laurio, president & CEO, Lindstrom. The panel discussion was moderated by TRSA President & CEO Joseph Ricci.
Topics discussed during the hour-and-a-half session included:
Big data and its use in the laundry, and using that data to improve communications and service with customers.
Visiting plants and employees, and making sure they are working as a team to achieve company goals.
Ways that independent operators can work with larger companies to move the industry forward.
Tools and/or resources available to leaders to create a consistent, healthy culture across plant operations.
Boosting employee engagement through recognition of staff members.
Supply chain issues impacting operations.
Communicating the value of the business in a time of high inflation.
Rising private equity vs. family business operations, and its impact on the industry worldwide.
In addition to the topics noted above, Ricci also took several questions from audience members during the presentation.
The TRSA Experience at The Clean Show continues tomorrow with a Women in Textile Services and DEI Breakfast at 7 a.m., an educational session on legal issues featuring lawyer Joseph Shelton at 8:30 a.m. and a TRSA Next-Generation Executives lunch at noon featuring a speaker from Chick-fil-A. The final day of the Clean Show features a TRSA hosted lunch for supplier partners/exhibitors. For more information, visit www.trsa.org/experience.