JENSEN-GROUP '22 First-Half Earnings Up Nearly 40%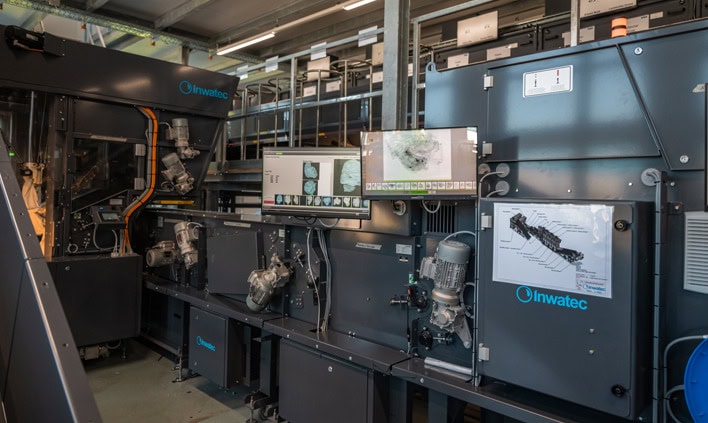 A view of the new soil area at the Bardusch laundry in Basel, Switzerland
The JENSEN-GROUP, Burgdorf, Switzerland, the parent company of JENSEN USA Inc., recently reported revenue for the first half of 2022 of 171.2 million euros ($172 million) – an increase of 37.8% vs. the same period last year, according to a news release. JENSEN officials attribute the earnings spike to a backlog of orders from the end of 2021 and strong orders from early this year.
The company also credits its recent growth to a spurt of investments in digital solutions by industrial laundries seeking to save labor and improve efficiency. "By introducing robotics and AI (artificial intelligence), the JENSEN-GROUP and its partner, Inwatec, have pioneered a totally new approach in laundry automation," the release said. "Launched at the JENSEN Performance Days 2018, many laundries around the globe have embraced this new technology that improves sustainability along the value chain."
The release cited the Basel, Switzerland, branch of the German launderer Bardusch Group as an example of a company that's installed a fully automated sorting system for soiled linen, a new washroom section and a highly automated garment-handling system. The upgraded laundry features technology from Inwatec and the JENSEN-GROUP.
The JENSEN-GROUP does face challenges as well, the release noted. Among these are supply-chain bottlenecks and the rising costs of materials. The latter phenomenon has forced the company to pass on some increases to customers in the form of higher prices. The JENSEN-GROUP is aggressively pursuing alternative sources of materials to help it control costs. In the meantime, the release said the company is pledged to continued transparency and regular updates to its customers on these issues. Click here for details.