Key Connection for Reusables Wins TRSA Legislator Accolade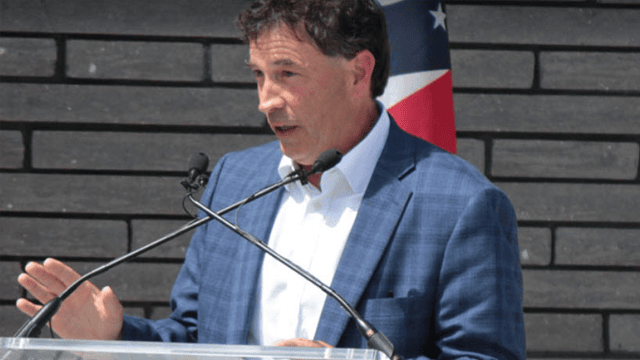 U.S. Rep. Troy Balderson (R-OH) is TRSA's 2023 Legislator of the Year, to be honored March 22 by TRSA's Board of Directors at the Legislative Conference in Washington, DC. Balderson has a strong relationship with Economy Linen (Zanesville, OH). He is a key TRSA connection in the effort to make reusable isolation gowns and other textiles more prominent in hospital inventories under the Pandemic and All-Hazards Preparedness Act (PAHPA).
He's a member of the House Committee on Energy and Commerce, which has requested public comment to reauthorize PAHPA. An Energy and Commerce subcommittee chaired by Rep. Richard Hudson (R-NC), a close colleague of Rep. Balderson, is gathering that feedback. PAHPA governs the Strategic National Stockpile, which TRSA hopes will be modified to increase reusable textiles relative to disposables.
Ohio's 12th District representative, Balderson has served in the House since 2018. A lifelong Ohioan, he was born and raised in Muskingum County and graduated from Zanesville High School. Prior to his career in public service, he worked on the family farm and ran the service department for his family-owned car business. He resides in Zanesville.
The Legislative Conference culminates March 23 with members making the case for reusables and other linen and uniform service legislative priorities with members of Congress and their staffs. The event is expected to attract more than 100 attendees with nearly that many meetings scheduled for Capitol Hill offices.
Activities at the Legislative Conference, based at the Westin City Center, begin at 2 p.m. on March 21 with a Supplier Partner Workshop (for TRSA supplier partner members) featuring a presentation by the National Association of Manufacturers (NAM) and interactive sessions on branding and buyer profiles specific to our industry.
In the early afternoon of March 22, TRSA committees meet to discuss industry issues and review and plan TRSA activities to support members in addressing these challenges. General sessions will prepare attendees for Capitol Hill meetings the next day. These include the keynote by Bob Cusack, editor in chief of The Hill newspaper; and an issue briefing featuring policy directors from lobbying firm Brownstein Hyatt Faber Schreck LLP: Drew Littman and Brian Wild, veteran federal legislative and regulatory staffers with Democratic and Republican perspectives, respectively. Awards dinner activities begin with a reception at 5:45 p.m. EDT.
The Hill Day excursion begins with an 8 a.m. EDT breakfast on Capitol Hill; visits to congressional offices begin immediately after and may run through the afternoon. Lunch will be available from 12:30 to 2:30 p.m., with buses returning to the Westin immediately after.
A program paralleling the conference for attendees' spouses/significant others begins with a meet-and-greet at 4:30 p.m. EDT on March 22, with these participants joining attendees at the awards dinner. The next morning, they can enjoy the Capitol Hill breakfast and an outing to Hillwood – a local favorite estate, museum and gardens.
Visit www.trsa.org/legcon for detailed event and hotel information.