Kleen-Tex: Back Home in LaGrange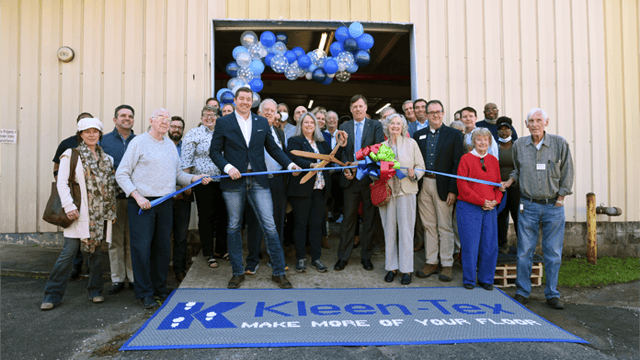 Kleen-Tex USA is hoping the third time's a charm for its recently reacquired production space located in the mat manufacturer's historic base in LaGrange, GA.
Founded in 1967 by Ralph Howard, a winner of TRSA's Maglin/Biggie Lifetime Achievement Award, Kleen-Tex recently held an open house to celebrate the manufacturing space it acquired last year. The company is now occupying this building for a third time, according to news reports.
"It's an act of divine intervention," said Jocelyn Howard Scott, Ralph Howard's daughter and the plant's general manager. She cut the ribbon during a Dec. 3 opening ceremony, along with her father and brother, CEO Bruce Howard. "We were looking for a place to call our manufacturing base," Scott said. "We looked in West Point, Hogansville (GA) and even considered (Tampa, FL). But in the end, we found out this building was available, and it had some meaning for us."
Constructed in 1976, the building on Lukken Industrial Drive once served as a hub for Kleen-Tex' U.S. mat-manufacturing business. The company soon expanded to several overseas markets, including Japan, Poland, Brazil, South Africa and Austria. While Kleen-Tex's corporate headquarters is in Atlanta, its overseas growth contributed to a decision in 2008 to sell its U.S. operations.
Now Kleen-Tex is back in LaGrange and employing roughly 30 people, some of whom have previous experience with mat manufacturing, either with Kleen-Tex or other mat manufacturers.
Scott says Kleen-Tex' overseas partners are helping to jump start its revived U.S. operation, but she added that staff are excited to grow the company right back where it started from … in LaGrange. "We're so happy to be back here," Scott said. "We want to continue to grow into a company that LaGrange can be proud of." Click here for details.