Latest Business Pulse Survey Highlights Hiring Struggles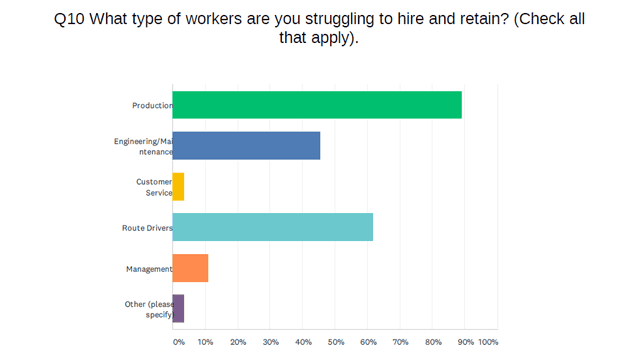 While many respondents to TRSA's latest Business Pulse Survey reported a rosier outlook economically, hiring troubles have persisted for many linen, uniform and facility services companies.
The latest iteration of TRSA's Business Pulse Survey was conducted in May, with a total of 57 respondents to the online questionnaire. The survey addressed topics ranging from a company's financial outlook to recruiting and retention of staff  and COVID-19 vaccination rates among employees.
A total of 44% of respondents described their revenue trend as near expectations, with 26% noting it as slightly above expectations. In the previous survey released in the first quarter of 2021, 37% of survey respondents described their revenues as near expectations, with only 12% slightly above expectations. Additionally, in the recent survey 19% of respondents said their revenues were slightly below expectations, a significant drop compared to 28% in the first quarter of 2021.
An overwhelming majority of respondents – 93% – said they were struggling to hire and retain employees. The following employees were the most difficult to hire and retain:
Production Staff, 89%
Route Drivers, 62%
Engineering/Maintenance, 45%
Linen, uniform and facility services staff are continuing to get vaccinated against COVID-19, with 46% of survey respondents indicating that more than 50% of their employees had received inoculation against the virus.
TRSA has surveyed its membership throughout the COVID-19 crisis to gauge the industry's response to the pandemic and ongoing economic recovery. To review the results of previous Business Pulse Surveys of operator members, click the following links:
March 2020 – https://www.trsa.org/news/business-pulse-initial-survey-shows-hard-hits-hospitality-fb-sectors/
April 2020 – https://www.trsa.org/news/business-pulse-update-industrial-operators-show-signs-optimism/
May 2020 – https://www.trsa.org/news/business-pulse-operators-weigh-loans-industry-messaging/
June 2020 – https://www.trsa.org/news/business-pulse-increased-hygiene-stressed-latest-survey/
August/September 2020 – https://www.trsa.org/news/business-pulse-provides-industry-update-six-months-pandemic/
January 2021 – https://www.trsa.org/news/covid-update-trsa-releases-first-business-pulse-survey-of-2021/
TRSA also ran a pair of Business Pulse Surveys of supplier partners to the linen, uniform and facility services industry. To view them, click the following links:
April 2020 – https://www.trsa.org/news/business-pulse-suppliers-report-delays-cancellations-orders/
May 2020 – https://www.trsa.org/news/business-pulse-suppliers-seek-financial-aid/