Laundry-Aid: Suppliers Assist Atlanta's Homeless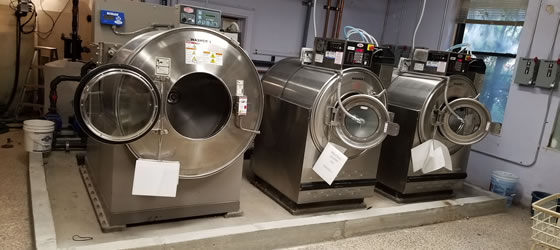 Suppliers donated the washer/extractors shown above, plus wash-aisle design and other services and products as part of a refurbishing of laundry facilities at My Sister's House, a shelter for homeless women and children in Atlanta.
While no one yet has come up with a sure-fire solution to homelessness in America, equipment suppliers to the linen, uniform and facility services industry are doing their part by helping two large homeless shelters in Atlanta launder residents' clothing as well as the sheets, towels and other flatwork items that they use daily.
For several years, AquaRecycle, an Atlanta-based supplier of water-recycling systems and related equipment, has partnered with My Sister's House, a shelter that houses some 260 women and children in a former school building/office complex at 921 Howell Mill Road.
Nearly 18 months ago, AquaRecycle installed a water-recycling system at My Sister's House at no charge. It also donated washing equipment for the "commercial" side of the facility, said Scott Christopher, director of facility services for the shelter that's operated here since 1982. These machines include a 135 lb. washer/extractor, two 60 lb. washer/extractors and two 120 lb. dryers. David Carter of Pellerin Milnor Corp. helped design the laundry facility, while representatives of the Chickasaw Nation donated the dryers. R.W. Martin & Sons Inc., sold the refurbished washer/extractors to AquaRecycle President Jeff Lebedin at a competitive price. Kudos go as well to Ken Jensen of Ecolab Inc., who provided a laundry chemical-injection system for the new equipment at My Sister's House, Lebedin said.
While the shelter doesn't take in outside work, the machines are now used daily to launder bed and bath linens used by residents. Previously, the shelter had only a 35 lb. washer in the basement that was too small for washing comforters.
Residents use another set of machines to launder their personal clothing, he said.
Each of the women who live at My Sister's House are encouraged to assist in the laundering side of the operation, as well in the kitchen and other areas of this nearly 65,000-square-foot shelter complex, Christopher said. There is a job-training element to these duties. "We have two segments to that. We do provide … we call it domestic laundry facilities for the women that live there. And then we have a commercial part where we launder their bedclothes, bed linens, comforters, sheets and pillowcases, that sort of thing. What we use the commercial laundry for is to clean our bedclothes. But it's also as a vocational-training opportunity for the women." At some point in the future, the shelter may begin taking in commercial or nonprofit accounts, Christopher says. "We're just not quite there yet."
The shelter residents include women from diverse backgrounds. Some work full- or part-time jobs; others aren't currently employed. All residents are expected to do what they can to help with the upkeep of the shelter, which includes both professional and volunteer staff, plus an accredited daycare program that serves 60-100 children at any given time. "We try to help them in any way they need," said Christopher. My Sister's House is part of the Atlanta Mission, a nonprofit organization that serves homeless people throughout the metro area.
Another recent improvement backed by AquaRecycle was the installation of a dumb waiter last November that allows staff, residents and volunteers to efficiently move soiled linens from an upper level to a basement area where the laundry machinery is located. "Previously our method for getting clothes into the laundry area was just shoving them over the rail at the top of the stairs, and then lugging them back up," Christopher said. "He (Lebedin) helped us with getting it installed. We bought it; he helped us get it installed. That's operational. It gets used every day for laundry services."
AquaRecycle also handles the maintenance and upkeep of the washing and water-recycling equipment, which has helped the shelter meet city ordinances for water conservation and qualify for grants to further improve energy efficiency through the installation of new electricity-saving LED lighting and low-flow plumbing fixtures.
Christopher described Lebedin and AquaRecycle as important backers of My Sister's House, and a nearby men's shelter, where the company also has donated water-recycling equipment. The systems have helped reduce water consumption at My Sister's House by 36%, and by 26% at the men's shelter, which is known as The Shepherd's Inn. "Discussions just kind of grew, and he ended up donating the system here, and getting his resources from around the country to help with providing the washers and dryers," Christopher said of the My Sister's House installation. "We just couldn't do all we do without people like (Lebedin) and organizations like his, partners that help us with in-kind donations. We don't receive any government funding. All we get are through donations or in-kind (gifts)."
As for solutions to the homelessness problem in Atlanta and beyond, Christopher and the Atlanta Mission, founded in 1938, applies a community-based approach to helping people overcome homelessness and poverty. A catchphrase on the organization's website reads: "Helping End Homelessness in Atlanta. One. Person. At. A. Time." Click here to learn more.
Christopher adds that while there are no easy answers to ending homelessness, "We're doing our best to make a dent in it. Make a difference. We try to stop (homelessness) one friendship at a time with the different ladies, and with the men, for that matter."
Obtaining community backing is crucial to that effort, and Christopher is grateful for supporters like Lebedin and the assistance that they provide. "He absolutely has been a tremendous friend and partner to this organization."
Lebedin has recently expanded his efforts in this area by organizing a not-for-profit group called Washing for HOPE (Homeless Organizations Promoting Excellence). The group is focused on replicating its work for My Sister's House and the Shepherd's Inn at similar shelters nationwide. "Clean clothes are often missed because feeding, education and providing shelter come first," said Lebedin. "But without clean clothes and bed sheets, homelessness is harder to overcome."