Lawmakers in the Plant – A Staff Morale Booster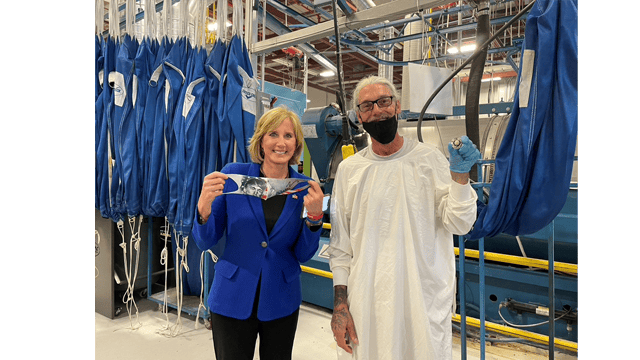 Laundry owner/operators like Johanna Ames understand the value of having federal or state lawmakers tour their facilities in terms of promoting public-policy goals. What they may sometimes underestimate is the positive impact these visits can have on staff.
Ames, whose company, Ames Linen Service, Cortland, NY, is marking its 100th anniversary this year, recently hosted a tour by U.S. Rep. Claudia Tenney (R-NY) a veteran official who eked out a close race last fall by a margin of 109 votes.
Ames said Rep. Tenney enjoyed seeing the plant's advanced systems, and she engaged in conversations with staff on a range of issues, including healthcare. "Rep. Tenney was very much in tune with the challenges and opportunities we face as operators," Ames said. "She appreciated the automation in the plant, engaged with several of our employees on the production floor and even autographed one associate's (clean) face mask!"
In a follow-up exchange of emails, Ames described the positive impact that Rep. Tenney's visit had on the employee who had the congresswoman sign his face mask, which bore an image of ex-President Donald Trump (R).
"Dylan Galbally, a longtime employee of mine, is a huge Tenney and Trump fan," Ames said. "When Dylan learned that the congresswoman was coming to visit, he approached me to ask if she might autograph his Trump face mask which he wore regularly throughout the pandemic. I offered to do my best, insisted he wash it (ha) and put it in a bag and give it to me."
When Ames told Rep. Tenney about the request, she not only agreed to sign the mask, but she offered to give Galbally a medallion/golf ball marker from one of Trump's golf courses that the former president had recently given her. "When we toured the plant, she presented Dylan with the signed mask and then also the medallion," Ames said.
That evening, Ames received a text message from Galbally thanking her for her outreach effort on his behalf to Rep. Tenney. "Hi, I just want to thank you so much," he said in the text to Ames. "I feel like I just talked to Elvis! Thank you and see you tomorrow."
The upshot is that visits by elected officials can have a positive impact on staff morale, while also advancing a company's (and the industry's) public-policy agenda. If you'd like assistance with arranging a visit by a state or federal elected official, please contact Kevin Schwalb, TRSA's vice president of government relations, at kschwalb@trsa.org.