Legislative Conference: Let's Talk Issues
TRSA will offer a preview of its upcoming 12th Annual Legislative Conference by hosting a Feb. 17 webinar titled "2022 Legislative Conference Preview: Let's Talk Issues." The webinar will offer attendees opportunities to brush up on ways in which they can advocate for their industry and business.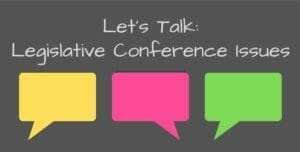 During the hour-long presentation, TRSA's Vice President of Government Relations Kevin Schwalb will review talking points for attendees including:
Issues to discuss with legislators such as:

Reusable healthcare stockpile
Industrial laundering of healthcare uniforms and scrubs
FEMA designation

How to educate legislators with insightful stories regarding the linen, uniform and facility services industry – its cleanliness, sustainability, safety records and its essential role – not to mention its impact on jobs and local economies
Learn the "Do's and Don'ts" of working with your legislators
This webinar also will provide a sneak preview of how the March 31 visits with Capitol Hill lawmakers and key staff members will work. Click here for more information and to sign up for the webinar. For more information on TRSA's 12th Annual Legislative Conference scheduled for March 29-31, visit www.trsa.org/legcon.