Legislative Conference to Highlight Exemplary Care for People, Planet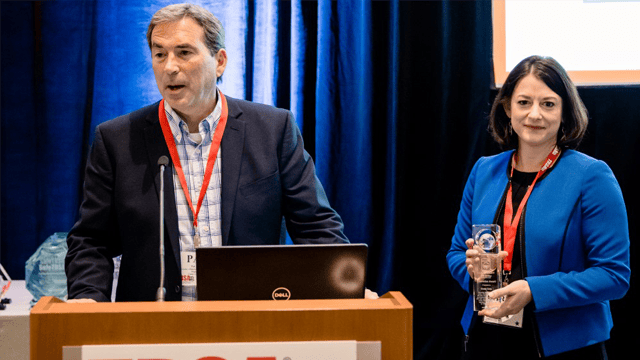 TRSA members' concern for employees, communities and the environment will be highlighted March 22 in Washington, DC, with the presentation at the TRSA Legislative Conference of the association's 2023 honors for Diversity Recognition, Safety and Clean Green Sustainability.
The diversity accolade recognizes leadership in valuing the "unlikeness" of individuals and encouraging and facilitating variation in human qualities in the workforce. This year's winners include:
ImageFIRST Healthcare Laundry Specialists, King of Prussia, PA, for its "Diverse by Nature. Inclusive by Choice." culture, emphasizing Diversity, Equity & Inclusion (DEI) in employee recruiting, orientation, training, celebration and more.
Spindle/Dober, Woodridge, IL. Chairing TRSA's DEI Committee since its 2020 inception, becoming the recognized leader in sharing its corporate focus on diversity across the linen, uniform and facility services industry.
The Clean Green award, named for TRSA's sustainability certification for linen and uniform service operations, honors leadership in reducing environmental impact, aligned with the best-management practices included in the standard.
Balfurd Linen Service, Tipton, PA. In wastewater, the facility has reduced BOD discharge by 600 pounds per operating day and now reuses 50% of water and reclaims 50% of heat. With the opening of a service center, gasoline consumption is down more than 20%. New dryers reduced natural gas 15%. All lighting is now LED.
Ellis Corp., Itasca, IL. The company's inception 50 years ago of dissolved air flotation (DAF) systems established the industry stalwart for removing suspended solids, fats, oils, greases and non-soluble organics. Operators to achieve and maintain wastewater limit compliance sustainability goals for water reuse.
The SafeTRSA Safety Excellence Award recognizes a company or facility that manifests its embrace of safety as a true corporate value. Award-winning entries are typically projects or achievements that produce or reflect safety gains due to support from top management, employee involvement, training or good communication. Operator member winners:
Balfurd Linen Service, Tipton, PA. Every team and departmental meeting has a safety component. The computerized human resources information system ensures every team member is properly trained and informed. The single-plant company has achieved 400+ days without a lost-time accident.
Linen King [Healthcare Linen Services Group (HLSG)], Tulsa, OK. Workers' compensation claims have been reduced 33% and days away from work 77%, thanks in large part to the involvement of a safety and risk professional to revamp the safety program for the entire organization.
Superior Health Linens, HLSG, Cudahy, WI. The plant's total incident rate fell from 8 in 2020 to 4 in 2021 and trended around 1 in 2022. Transportation, which previously accounted for 70% of recordable incidents, has been working safely for 1.5 years; the maintenance department, 3.5 years.
Virginia Textile Service (Mohenis Services), Petersburg, VA. Exceeding 1,500 accident-free days and counting, the plant's safety program features monthly refresher meetings and safety is as important to performance appraisals as productivity and quality.
Supplier partner winners of the 2023 safety award:
ARCO Murray, Downers Grove, IL. A dedicated safety team monitors jobsite safety, trains and helps project teams mitigate risk. All construction team personnel are certified in First Aid/CPR/AED and OSHA 10-hour, at a minimum; superintendents, OSHA 30-hour.
Ecolab Textile Care, Paul, MN. A safety cone campaign raises driving safety awareness and reduces accident/injury frequency. Employees have received a miniature cone to decorate and display to themselves in their vehicles to keep safety top of mind. Parking and following-distance techniques are prescribed.
Meese (Tank Holding Corp.), Madison, IN. To meet laundry employees' ergonomic and safety needs, the manufacturer has made carts lighter weight and easier to move, enhanced their strength using HDPE plastic, and added plastic spring platforms and low cutouts.
UNX-Christeyns, Greenville, NC. An overhaul of liquid laundry chemical product labels features headers in four different colors, signifying low, neutral or high pH or oxidizers. Posters identify which of the four can or can't be mixed safely as well as other care and safety information.
In addition to these honors, the March 22 dinner at the Legislative Conference will feature the presentation of awards for community and customer service, video, TRSA engagement, best plant and more. Visit www.trsa.org/legcon to register for the March 22-23 conference.