Linden (NJ) Mayor Tours Unitex Plant
Unitex's Linden, NJ, location recently hosted Linden Mayor Derek Armstead, Mayor's Aide Rebecca Kerins-Tattoli, Latino Economic Development Center (LEDC) Director Rich Puschel and Bidisa Rai from the Gateway Chamber. The group toured the facility and took part in discussions on business development, according to a news release.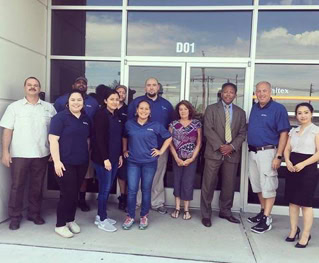 "It was a pleasure to meet Mayor Armstead and we are beyond thrilled that he was very impressed with our facility, company and staff," said Unitex Linden General Manager Peter Leotsakas. "As a leader in the healthcare laundry industry, we are always looking to improve upon our business, and by inviting key local leaders like Mayor Armstead into our facility, we are able to have open communication as well as discuss ways to work together productively in the future."
Unitex opened its 67,000-square-foot plant in Linden, NJ, in June 2016. The plant created more than 200 new jobs for local residents. In addition to job creation, the facility's leaders are becoming increasingly involved in the city by creating new relationships with local organizations and investing in community programs like the Earth Day event run by the Linden Library and Environmental Commission.