Linen King Cuts Ribbon on 'Promised Land' Plant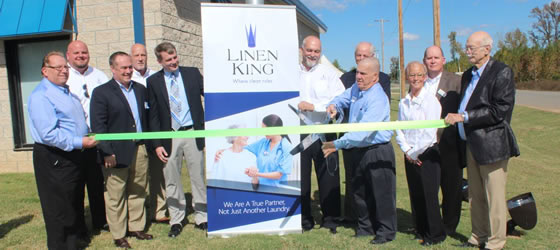 Linen King Management Team: (l/r) Gerald Snider, chief engineer; Preston Bringhurst, account manager; Leonard McCullough, founder and CEO; Keith Mateychick, corporate manager; Don Keene, account manager; Gary Hutchison, COO; Jay Betz, president and CFO; L.K. McCullough, founder and VP of operations; Patsy Skaggs, director of account management; Kevin English, director of sales and marketing; Richard Warren, general manager, Conway plant.
Linen King, a Tulsa, OK-based regional provider of healthcare laundry services, formally opened a new 60,000-square-foot plant on Oct. 24 in Conway, AR. The new plant, which represents a $7.2 million investment, is capable of processing up to 30 million lbs. annually.
A crowd of about 30 customers, prospects and guests (including a Textile Services Weekly correspondent) gathered in front of the plant for a ceremonial ribbon cutting. A large American flag on a nearby pole snapped in a brisk breeze under sunshine and blue skies as L.K. McCullough, founder and vice president of operations, used a pair of oversized scissors to cut the ribbon. This move signaled the formal opening of the plant, which began processing goods a couple of months ago. The Conway plant is Linen King's sixth facility. The company's operations are located across five states including Oklahoma, Arkansas, Missouri, Tennessee and Kansas.
Linen King CEO, Leonard McCullough (son of L.K.), spoke briefly to the visitors following a luncheon served under a white tent, plus a guided tour of the new plant. The laundry includes three tunnel washers from Pellerin Milnor Corp and four ironer lines. Most of the ironers and finishing machinery are provided by Chicago Dryer Co. and G.A. Braun Inc.
Leonard began his remarks by thanking his guests for coming and acknowledging the staff's work – especially General Manager Richard Warren, who joined Linen King after it purchased the original hospital-owned facility he was running at the time in Conway. Along the way there were challenges, including the addition of 6 million lbs. of additional work after a competitor's plant was destroyed in a fire. For several years, Leonard had pledged to Warren that the company one day would build a new, larger facility that he would oversee. Leonard quipped that the new Conway plant represents a kind of "Promised Land" for Warren, who unlike the Biblical Moses leaving Egypt, actually gets to walk into the new facility. "Richard's been through a lot with us and really for four or five years I've been promising him that we would build a new laundry," Leonard said. "He kept kind of nodding his head and finally we did it. So the joke is that he's Moses, but we let him come into the Promised Land. He and his team have done a fantastic job. We really appreciate that."
Adding to the complexity of opening the new facility was the fact that earlier this year, Angelica announced plans to close a plant in Memphis, which is about 2.5 hours' drive from Conway. That opportunity drew interest from Linen King as a potential buyer. Leonard said Linen King agreed to buy the assets from Angelica because it would help the company grow its business in the Memphis area, while at the same time freeing up capacity in the Conway plant to pursue new business (especially closing OPLs) in the area around Little Rock and southern Arkansas. "So even though it was half crazy to take on that at the same time that we were doing this (the Conway plant), we agreed to go ahead and do it," Leonard said. "We're still operating that facility." Leonard said that over the next couple of months the company will decide their next move regarding the Memphis plant. They're currently processing about 5.5 million lbs. there annually. If they decide to keep it running, it will get some "polishing" and certification to ensure that the safety and quality standards there are as high as those of the Conway plant, or any other of the company's other facilities.
Leonard also described four key trends facing the healthcare laundry industry that are of critical concern. They include:
1.       Hospital consolidation: In most parts of the U.S., larger hospitals are absorbing smaller ones, mainly in a drive to achieve economies of scale and lower costs, including for laundry services.  We are also seeing consolidation at the supply chain level as well.
2.       Supply chain process: Leonard said some hospitals are so focused on costs they're "commoditizing" laundry services, a trend that he thinks is penny-wise but pound foolish.
3.       Leonard said Linen King is working to differentiate itself as a "valued-added" service provider by having its service team work with hospitals to reduce linen use and waste, thereby saving healthcare providers more than a price-driven approach. "There's a lot more savings in lowering your overall poundage than there is in being a penny or two a pound cheaper," he said. Ensuring safety in plant policies and procedures, including Clean Green certification, is another way Linen King seeks to add value to its service.
4.       The fourth item Leonard mentioned was embracing Best Practice Management by his service team. An example of this initiative includes writing requirements into contracts that Linen King staff will do a set number of linen awareness days or similar education programs for hospital staff. "We believe in putting our money where our mouth is," Leonard said, noting that if the service teams don't fulfill a set number of training programs or other services, the company will pay a penalty for not following through. "We think that really holds us accountable," Leonard said. "What we're trying to do is help the hospital use the linen more efficiently and lower their overall volume – even if their adjusted patient days stay the same or grow – and make sure we're educating their people."
Leonard concluded by saying that "The market has responded well to our efforts because we've renewed over 95% of our volume on long-term contracts just in the last 12 months.  We are very grateful to our staff, vendors and customers."