Longtime Editor Charlotte Caffrey Passes Away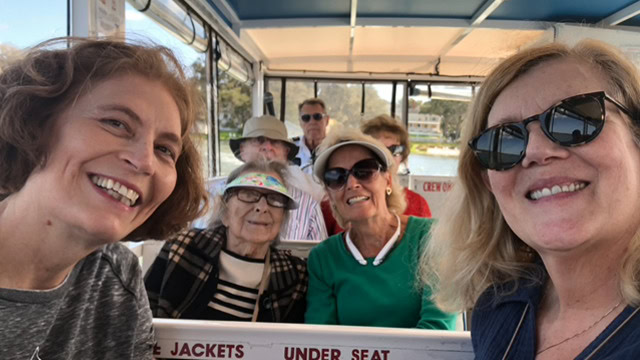 Charlotte Caffrey, 96, a well-known figure in commercial laundry circles and the retired editor of TRSA's Linen Supply News and Textile Rental magazine from 1969-'89, passed away on July 2 with her son Perry at her side.
A onetime newspaper reporter for the Miami News, Caffrey was the first woman to lead TRSA's monthly magazine, which was renamed Textile Rental in 1979 and Textile Services in 2012. She boldly chronicled the life and times of the association and its largely male-dominated companies during the '70s and '80s through news and feature articles, plus a regular column she eponymously dubbed, "According to Caffrey."
Two former TRSA chairs who worked closely with Caffrey commended her service to the industry and TRSA. Tony Richman and Richard Senior fondly recalled working with Caffrey on various articles, as well as talking to her at social events sponsored by the Linen Supply Association of America (renamed TRSA in 1979). "Charlotte was a great editor and writer," said Senior, who chaired TRSA from 1983-'85. "We had some wonderful conversations, and I thought of her as a valued friend. I recall her being feisty, so it doesn't surprise me that she lived to 96."
Richman praised Caffrey's editorial skills and character. "I remember Charlotte very well," said Richman, who chaired TRSA from 1993-'95. "She was a terrific lady and a talented asset to the then-LSAA. She seemed to be in constant touch with everyone. She never waited to be called. When she heard of something happening of interest to the industry, she would be on the phone or on a plane to get the details. I remember several interviews she had with me. I knew that I must have rambled on and on, but Charlotte showed great patience and was able to separate from my 'rant' what she needed for the article. She was a great listener. A great communicator. Best of all, a good person."
During her tenure, Caffrey led a staff that included an advertising manager, publications editor and managing editor. In the late' 80s she launched a second bi-monthly magazine, Clean Scene, that focused on facility-services issues. Post-retirement, Charlotte and her editors stayed in touch. In the last decade, they began taking yearly excursions to Mount Dora, FL. The editors – Christine Seaman, Nancy Jenkins and Virginia Sowers (pictured above) – made what would be the group's final trip to the Sunshine State this past February, said Jenkins. She recalled Caffrey as an excellent editor with a taste for the great outdoors. "She lived a really full life and was a great role model for how to approach aging," Jenkins said of Caffrey. "One of her neat adventures was when she packed up and spent nine months or so on Cat Island in the Bahamas after her son was sent to Vietnam. She spent that year living out of a VW bus, painting, writing and making friends among the islanders."
Jack Morgan, current editor of Textile Services, was so impressed with Caffrey's archive articles on ex-TRSA chairs such as Jack Spence (1971-'73), that he encouraged her (then in her 80s) to write for the magazine again on a freelance basis. She authored pieces on a range of topics, including reusable diaper services, trends in laundry engineering and Morgan's personal favorite, a 2014 piece on indoor and outdoor digital signage. "She approached technical topics with her characteristic verve, coupled with clear, well-researched writing," Morgan said. "She questioned whether digital billboards would grow in popularity or fade like the jukeboxes of her youth. It was a great analogy that showcased her experience in the media and in life. I was sad when she told me it was time for her to stop writing for the publication. But I was grateful for the experience we'd had with her. She will be missed."
Click here, here and here (TRSA member login required) to read Caffrey articles from the 20-teens.