Longtime RSR Retires at CITY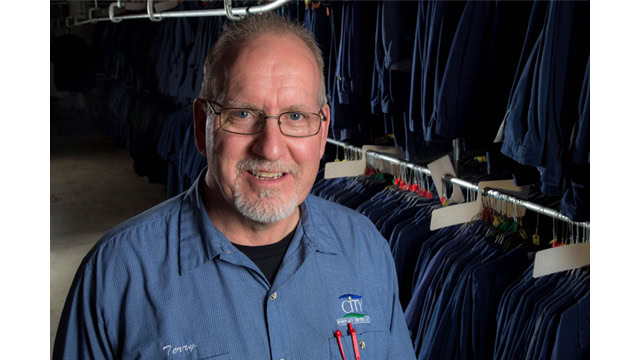 Terry Shaffer recently retired after 39 years as a route service representative (RSR) for CITY Laundering Co., Oelwein, IA. Shaffer started with CITY in 1980, and primarily serviced eastern Iowa for their uniform, floor care and facility services needs, according to a news release.
"Terry represents CITY so well," said Colin Wetlaufer, CITY's fourth-generation president. "He worked his way up, and Terry has always cared about his customers, always had a smile, and always had a joke."
According to Terry, his approach to customer service was to stay upbeat and always find solutions. "We are right here locally and if you call us, it's taken care of – I'll guarantee it," Shaffer said. "After all these years, that is what we are all about. We're personable."
Shaffer built personal relationships with his customers and also his fellow co-workers. "Terry Shaffer is a very dynamic person," said Dan Tauke, of Tauke Motors, a CITY customer since 1999. "He's been a great asset to our business over the years and it's been a pleasure doing business with Terry. Terry, thanks for the great service all these years. Appreciate everything you've done for us."
As a tenured route service representative, Shaffer assisted in coaching and training new route personnel. "Terry's just a very genuine giving person," said Ken Schnor, CITY's Director of Service. "Terry is actually one of the route reps that trained me 22 years ago when I started. Terry's customers really love him, and Terry takes great care of them."
The second-generation CITY President, Roger B. Wetlaufer, hired Shaffer and Shaffer identifies the late Wetlaufer as his own mentor. "I've had a good life at the laundry and have been treated well over all these years," Shaffer said. "It has been a good job for a long time, and it is a job I will always remember."
After just shy of 40 years in June, Shaffer has decided it's time to retire and spend more time with his family, especially his grandchildren. "Every time I see Terry, he makes me happy, Wetlaufer said. "He makes me proud to work at CITY."
To view Shaffer's full retirement video, click here.