Looking Beyond COVID – F&B Virtual Summit & Roundtable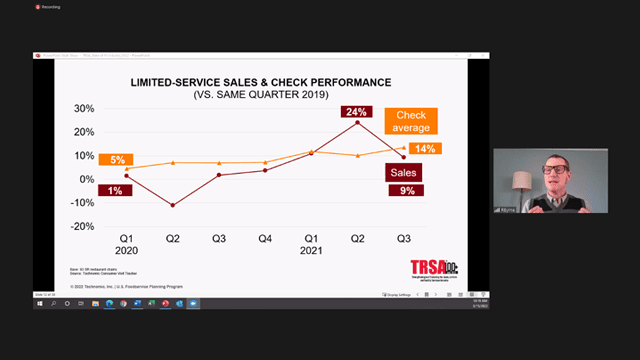 Nearly 50 laundry executives gathered recently for a three-part TRSA virtual program that provided food-and-beverage (F&B) launderers with a forum for reviewing the issues that they face as COVID-19 downshifts from a crisis to one of many challenges.
That said, few if any attendees at TRSA's March 15 F&B Virtual Summit & Roundtable take the risk of a COVID resurgence lightly, given the recently renewed COVID-driven lockdowns in China and rising infection rates Europe. Recently, however, as local governments have lifted mask orders and restaurants have loosened pandemic restrictions, laundry operators now are confronting a "new normal" of post-COVID planning prerogatives.
For example, during an Executive Roundtable discussion that followed a review of F&B market trends and the findings of a TRSA-sponsored study of business/consumer attitudes, attendees grappled with a range of issues. These included the fact that some local officials are weighing shutdowns of lucrative outdoor-dining venues that they say are no longer necessary. One operator said that competition for parking revenue is pushing local officials in California and elsewhere to scrap the liberalized use of outdoor space for dining that previously was justified by the pandemic. Laundry operators hate to lose these patio-style areas that are popular with diners and allow more people – especially those who are anxious about COVID – to enjoy dining out.
Robert Byrne, director, consumer & industry insights for Technomic Inc., said in his kickoff presentation at the F&B virtual event that while the restaurant industry is recovering from a low-point two years ago, obstacles to growth remain. Citing his report, titled "State of the Food Service Industry," Byrne noted a number of challenges facing restaurateurs. These range from inflation, which gives the misleading appearance of profits from larger check totals to critical labor shortages that are forcing many restaurants to cut their hours. The latter issue limits restaurant earnings, which, in turn, hampers their ability to pay for the services they need from commercial laundries.
The good news is that pent-up consumer demand could keep the recovery going. "People want to feel normal again," Byrne said, noting that breakfast dining is up this year. The industry generally is continuing to recover after a slight downturn last year when the delta and omicron COVID variants put a renewed drag on dining out.
Coming off of the COVID crisis, laundry operators are more anxious than usual to know how the public views the value that linen products bring – especially in terms of cleanliness – as dining out gradually ramps up.
Logan Murtha, creative strategist for the Yes& Agency, which partnered with TRSA on a recent study of consumer attitudes toward reusable textiles, offered attendees insights on attitudes toward F&B linens and uniforms. Her presentation, titled, "F&B Recovery and Expansion: Research Findings," includes survey research results that the agency gathered on numerous issues. Regarding cleanliness, the survey of 1,000 consumers said they saw linens as a "differentiator" in terms of cleanliness. Co-presenter Ryan Mathews, senior national sales manager for Alsco Uniforms, Salt Lake City, added that linens and uniforms for F&B staff deliver on what matters to consumers in terms of cleanliness, as well as image and professionalism.
Documenting cleanliness matters too, apparently. A total of 63% of the survey respondents said they supported the idea of certification of textiles as offered through TRSA's Hygienically Clean certification program. Mutha offered a catchphrase for a prospective industry-outreach effort, noting that F&B linens and uniforms "deliver an enhanced experience" to restaurant patrons. Yes& is working with TRSA to develop a "toolkit" for association members. It will take key study findings and craft them into talking points that that will resonate with their restaurant customers. This information could help laundry operators make the case to restaurants for reusable textiles, including tabletops, chefwear, napkins, towels and more.
TRSA's F&B Virtual Summit and Roundtable was presented at no charge to the linen, uniform and facility services industry thanks to an event sponsorship by JENSEN USA. Click here to view a recording of the F&B Virtual Summit in TRSA's On-Demand Learning Center.