Mag Reader Survey Closes; Incentive Winners Named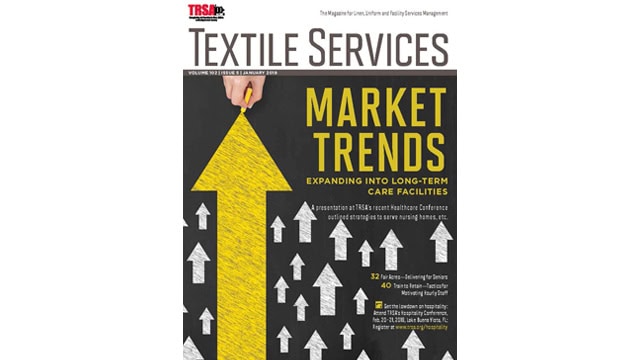 Textile Services recently completed the latest edition of its AdBrand™ readership survey. The yearly study of the publication's January issue drew 164 respondents who completed an online survey developed by Signet Research Inc., Englewood, NJ.
The study asked laundry operator subscribers to look at each of the 26 ads in January's issue and describe whether they remembered seeing the ad. Whether they did or not, the survey then asked them to look at the ad and give their opinion of the advertiser and the product (s) advertised, plus what they felt was the message that the ad was trying to convey.
Signet is now compiling its findings from the study that was emailed to Textile Services subscribers in mid-January. When the report is complete, each advertiser will receive a copy of the findings, including roughly two pages of "verbatim" comments from readers about the advertiser and its products. A section of the survey also asked for general comments on Textile Services and its value to the industry.
Additional findings in the final report will include a list of top-scoring ads based on their "AdBrand Score." Signet determines this measure of brand awareness based on a combination of the number of respondents who said they were aware of the company before seeing the ad and those who said they'd consider buying its products or services if they had a need to do so. The completed reports should be out by the end of February.
To encourage readers to complete the AdBrand survey, TRSA offered each respondent a $10 online gift card redeemable at any Starbucks coffee shop. As an added incentive, Signet Research conducted a blind drawing of five respondents, each of whom received a $100 Amazon gift card. The winners in the Amazon bonus drawing included:
Dan Bresnahan, General Linen Service LLC, Somersworth, NH
Mike Hedgecoke, North Texas Health Care Laundry, Grand Prairie, TX
Kenneth Lee, Nixon Uniform Service & Medical Wear, New Castle, DE
Andrew Lopez, Nu West Exceptional Linen, Concord, CA
Philip Sharpe, United Hospitality Services LLC, Austell, GA
TRSA and the staff of Textile Services magazine would like to thank everyone who participated in the AdBrand survey. The findings will help both the magazine staff and advertisers do a better job of meeting the needs of linen, uniform and facility services companies going forward.