'Make It Happen' – M&B: 11 Years Incident Free!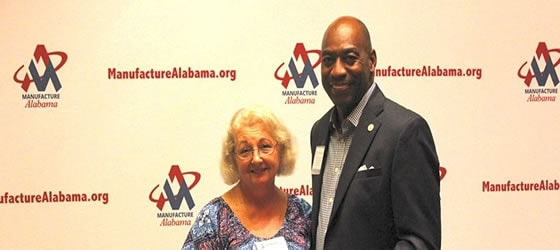 (l/r) Darlene Yarborough, M&B Hangers, Leeds, AL; and Fitzgerald Washington, commissioner, Alabama Department of Labor
M&B Hangers, Leeds, AL, recently announced that it was recognized during a statewide conference for the company's outstanding safety record in 2016.
"Safety doesn't just happen; it takes a conscious effort on everyone's part, beginning with mine," said President Milton Magnus, referring to the fact that the company has gone 11 consecutive years without a lost-time accident at its Leeds plant, according to a news release.
M&B's safety record recently earned it an award from the Alabama Department of Labor and Manufacture Alabama, a trade association. M&B was recognized during an April 28 conference in Orange Beach, AL. The event was sponsored by the association, which represents manufacturers statewide. The program, dubbed, "Manufacture Alabama's Safety, Human Resources and Health Conference" recognized a total of 31 companies, including M&B Hangers, that had no recordable lost-time accidents in 2016, the release said.
M&B attributes this record of incident prevention to its ongoing commitment to maintaining the highest safety standards. At M&B, safety is a companywide effort. It includes an employee-led safety committee that meets monthly to discuss incident-prevention efforts. Committee members rotate every six months to ensure that every employee is personally invested in upholding the highest safety standard. "Our motto at M&B is, 'Make it happen,'" Magnus said. "Nothing happens prior to making things safe, through initial safety training, continuous safety training and constant evaluation. We have a great team, and each team member knows that safety is our first priority."
To celebrate M&B's safety milestone, the company treated its staff to a barbecue on April 20. The company's annual picnic is slated for May 21 at Regions Field in Birmingham, AL, where attendees will see a Double-A Southern League baseball game between the Birmingham Barons and the Tennessee Smokies.