'Make the World Green Again!': Webinar Highlights Sustainability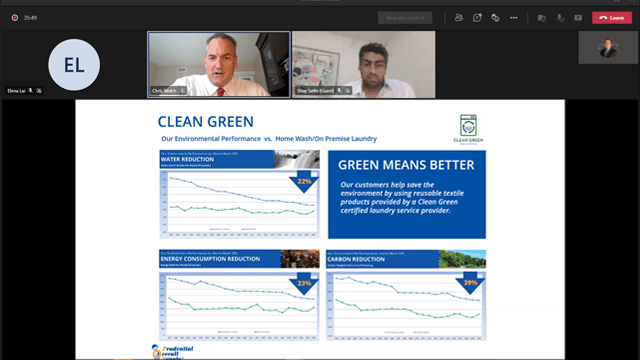 TRSA recently participated in a 90-minute webinar with international partners DTV (Germany), ETSA (Europe), FBT (Belgium) and TSA-UK to discuss global sustainability efforts in the linen, uniform and facility services industry. The webinar, titled "Make the World Green Again!" took place on June 30 and featured a speaker from each participating association as well as a question-and-answer session for participants.
Chris Welch, president, Prudential Overall Supply; Shay Sethi, CEO, Ambercycle; and Joseph Ricci, president and CEO, TRSA, all spoke during the webinar, which was broadcast virtually to an international audience via Microsoft Teams.
Welch kicked off TRSA's role in the presentation with an overview of Prudential Overall Supply's Clean Green certification and commitment to sustainable practices when laundering and delivering its customers uniforms, floor mats, towels, mops and other reusable textile goods. Welch presented graphs showing that Prudential uses 22% less water and 23% less energy than home washing and/or on-premise laundries (OPLs). The company also showed a 39% reduction in its carbon footprint compared to home wash/OPLs.
Following Welch's overview of Prudential's green practices, Sethi outlined Ambercycle's innovative technology to recycle textile goods at its plant in Los Angeles. By recovering polyester from garments that would otherwise be discarded, Ambercycle's process leads to less waste in landfills and conserves natural resources.
During a later segment, Ricci discussed green practices in the U.S. linen, uniform and facility services industry with Elena Lai, secretary general of ETSA, who moderated the webinar. Ricci discussed sustainable partnerships that the industry has struck with government entities such as the U.S. Environmental Protection Agency (EPA), including LaundryESP, which led to TRSA's Clean Green certification program. He also discussed efforts to remove harmful chemicals such as nonylphenol ethoxylates (NPEs) from laundry detergents, as well as industry efforts to reduce water and energy use.
Additional presentations explored the opportunities and challenges to advancing sustainability in Europe, and beyond. The webinar emphasized the circular business model of the linen, uniform and facility services industry, and panelists discussed how to cultivate a culture of increased sustainability and circularity by exchanging best practices and better discerning what objectives unite the industry on a global scale. Additional speakers included:
Valeria Botta, programme manager, Environmental Coalition on Standards
David Stevens, CEO, Textile Services Association (UK)
Daniel Dalkowski, deputy managing director, DTV
Michiel Van den plas, project manager, Recydata
A recording of the webinar will be available in TRSA's On-Demand Learning Portal at www.trsa.org/ondemand.