Make Your Message Matter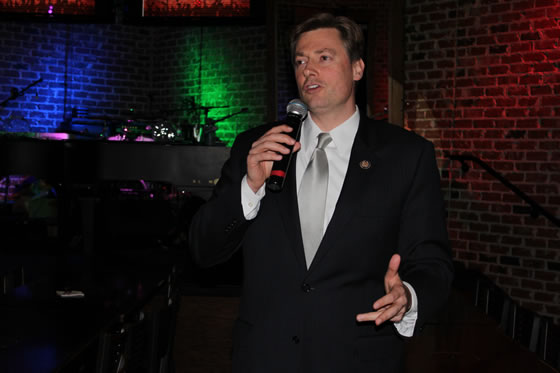 PA Rep. urges TRSA advocates to focus on how federal policies affect constituents
PRESS RELEASE
Textile Services Industry Touts Rep. Altmire -3/26/12
The roughly 70 TRSA members who attended the opening reception of TRSA's March 26-28 Leadership & Legislative Conference in Washington learned a valuable lesson on political advocacy from a member of Congress who holds dozens of meetings with constituent groups daily, especially during the spring "fly-in season." His advice? To paraphrase pop singer Aaron Neville – Tell it like it is!
"To make your trip worthwhile, to make a difference, remember: Relate it to the constituency," said U.S. Rep. Jason Altmire (D-PA) in a welcoming address to TRSA Operators and Associate Members gathered at Bobby McKey's Dueling Piano Bar in National Harbor, MD. "Relate it to the impact it's going to have on real people."
More than 40 textile services CEOs, owner/operators and Associate member executives visited scores of congressional offices during TRSA's Leadership & Legislative Conference. These companies have a significant impact on the U.S. economy. TRSA operators oversee nearly 1,000 facilities nationwide and earn $13 billion in annual uniform rental, linen supply and healthcare laundry revenues. Industry suppliers at the conference included senior executives from every major machinery, chemical and textile product manufacturer, as well as many of the industry's most respected consultants. While all were primed to advocate for the industry, Rep. Altmire's input gave them an even better understanding of the task at hand.
When TRSA business and other advocacy groups come to Washington, they raise scores of issues, including questions about spending and foreign policy. Those that speak without focusing on specific concerns that affect constituents tend to get lost in the shuffle of a busy congressman's agenda. Rep. Altmire said that at the end of a hectic day, he'll sometimes think back on the many 20-minute meetings he's held over the last eight or 10 hours. While he says his memory is sharp, he nonetheless concedes that he sometimes must refer to that day's schedule to recall the different groups with whom he recently met. "You don't want to be the meeting that at the end of the day, I can't remember," Rep. Altmire said.
While having a memorable story to tell on issues is important for effective advocacy, Rep. Altmire emphasized that those who take the time to meet with lawmakers are making an important contribution to the process of governing. That's especially true today amid controversies on issues ranging from healthcare to estate taxes, environmental rules and more. "It really makes a difference for you to be here," Rep. Altmire told his TRSA audience. "This is budget season. We're dealing with issues that are going to have a lasting impact on your business and the country. You want to make sure that your voice is heard."