March TS Preview – Finishing Strong at Alsco Raleigh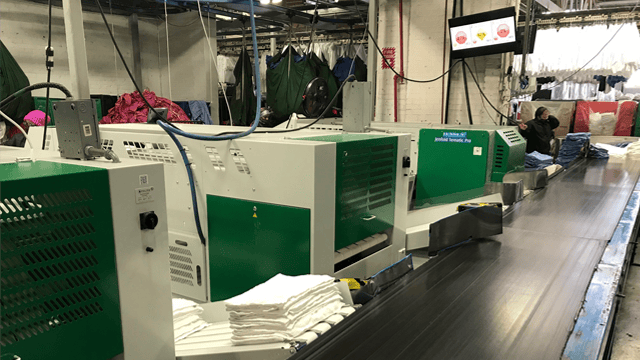 In next month's Textile Services magazine, we'll offer a look inside the finishing department at Alsco Uniform's plant in Raleigh, NC. There, just above the JENSEN spreaders and feeders and just over top of the American Super Sylon ironers and at other locations in the facility, you'll see monitors – computer screens – that keep track of operator efficiency.
The monitors relay production levels in the finishing department, which is spread across a large area of the 43,000-square-foot (3,994-square-meter) plant. With Challenge dryers, American Laundry Machinery ironers, JENSEN feeders, Leonard Automatics stackers, a Leonard steam tunnel, plus Foltex folders/stackers, the plant staff rely on Spindle tracking software to measure the work-pace statistics of the production employees. In this plant, the software does this without the benefit of barcodes or chips in the textiles.
Spindle, on its website, promotes its products to laundries, saying that operators can, "Overcome the current labor shortage, rising labor costs and a shrinking labor pool, while putting extra emphasis on the need to improve operational performance to stay competitive."
As for production standards, Plant Operations Manager Eric Cua, a 17-year Alsco Uniforms veteran, notes that "There are goals for each person, each station. This is how we track production levels, to make sure we're where we want to be, where we need to be."
The software enables each employee to see statistics related to the 260,000 lbs. (117,943 kg.) that the plant processes per week, while operating eight hours a day for five days. Currently, this Alsco plant is 90% fully staffed, says Cua. "We fill any openings with temporary employees and hope they turn into full-time hire positions." Knowing the desired results and the effort needed to get there helps the staff and manager to meet their finishing goals.
The small-piece ironers can have five operators. But, on this day at one ironer, just two employees were feeding napkins. As the process continues, Spindle monitors the efforts and updates the statistics every five minutes. Cua can view the results on his office computer or smart phone as he moves about the plant.
"People are people," he says. "Each has a pace. Some are better at this work than others, so we move employees around the finishing department to make sure we are as efficient as possible. And we may find that an employee who is not the best in one position is better in another part of the plant."
Watch for the full-length edition of this article and many others in your March edition of Textile Services magazine.