Marketing & Sales Execs. to Gather at Virtual Summit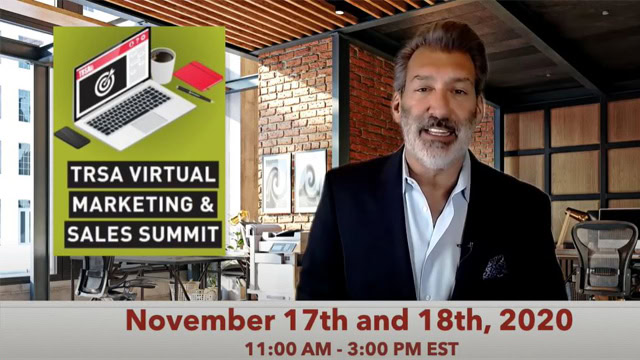 Both operator members and associate supplier partners alike will benefit from the content offered at TRSA's Virtual Marketing & Sales Summit, scheduled for Nov. 17-18 from 11 a.m. – 3 p.m. EST both days.
How have customers changed as a result of the pandemic and how will this affect plans moving into 2021? How do marketing and sales professionals need to change to meet expectations in the toughest business environment in modern history? Tune in for keynote David Avrin's message and embrace his concepts for customer service as a meaningful marketing tool.
Avrin's high-energy and entertaining keynote will show how a customer's experience really is a new competitive advantage. Forbes recently named his latest book, Why Customers Leave (and How to Win Them Back) as one of the "7 Business Books Entrepreneurs Need to Read" and one of the "Top-Ten Business Books of the Year (2019)." Attendees will have opportunities to win a copy of this book during the various interactive spots throughout the two-day summit.
The Virtual Marketing & Sales Summit will offer a unique, attendee-driven agenda. Clean the lens on your webcam and turn on your microphone! In addition to Avrin's keynote, tune in for general sessions with facilitated breakouts:
Restaurant and Consumer Hygiene Safety Awareness Campaign presentation
Attendees' Choice Session: You Pick Topics
Opportunities and Challenges in the Face of a Crisis
Marketing and Sales Committee Survey Results (Fall 2020 survey)
Video Stars: Tips and Tactics for Creating Great Marketing Videos (presented by the four finalists of the TRSA Video Contest)
Interactive Executives Panel Discussion, including these panelists:

Ryan Flaherty, vice president, sales, marketing and business development, Aramark Uniform & Career Apparel
Mark Rue, sales and marketing director, Johnsons Apparelmaster
Tim Topornicki, president, Topper Linen Supply Ltd.
Darryl Williams, senior vice president, sales, marketing and design, Laundau Uniforms Inc.
On Nov. 18, Summit attendees also will vote for the winner of TRSA's first-ever Marketing & Sales Video Contest!
New for this virtual event is group pricing. Operator members and associate supplier partners can register individually for the early pricing of $349; however, company teams are encouraged, and we are offering our first-ever group pricing! Register up to five on your team for one low price of $549 total! If you'd like to bring more than five, reach out for pricing! All group registrations can be processed through registration@trsa.org.
To review the full brochure, see updates to the agenda and register for this virtual event, visit www.trsa.org/marketingsummit.