M&B Marks 75th Anniversary and a 12-Year Safety Record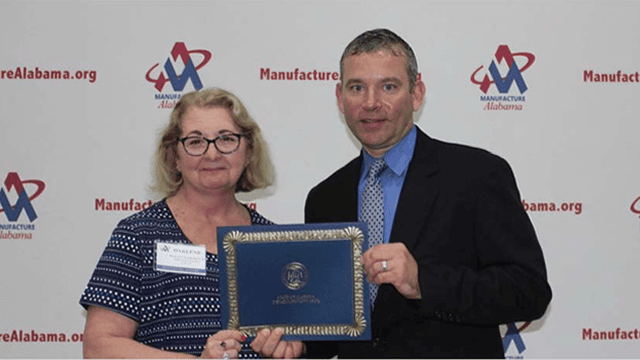 Left to Right: Darlene Yarborough, M&B Hangers, and Tim Stroth, Aker Solutions, Safety Committee Chairman, Manufacture Alabama
The team at M&B Hangers, Leeds, AL, has much to be excited about this year. Now celebrating their company's 75th anniversary, the M&B staff and management recently learned that the Alabama Department of Labor and Manufacture Alabama also have recognized M&B for its exemplary safety record. Specifically, M&B Hangers has gone 12 consecutive years without a lost-time accident.
Company President Milton Magnus credited M&B's success in incident prevention to the efforts of the entire staff. He also commended the leadership of Operations Manager Dallas White and Human Resources Director Darlene Yarborough for their commitment to ensuring that everyone works safely. "This is a fantastic milestone that could not have been accomplished without their hard work," said Magnus.
Speaking of the company's anniversary, he added that, "This year we celebrate 75 years as a family-run business, and our motto at M&B is and has always been, 'Make it Happen.' All of our associates do just that. We make an intentional effort in all that we do, and Dallas' and Darlene's work is a perfect example of proactivity and leadership in keeping our team safe."
M&B Hangers runs a companywide safety program, and its employee-led safety committee meets monthly. Committee members rotate every six months to ensure that every employee is personally vested in upholding the highest safety standards.
To mark the team's safety milestone, M&B treated its associates to a celebratory barbecue on April 23.