Metro Makes 'Top 100 Minority Business Enterprises'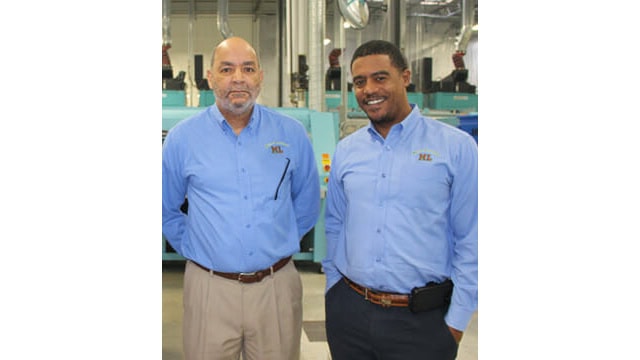 (l/r) Metro Laundry President Bernard Young and COO Steven Young
The two top executives at Metro Laundry Service, Capitol Heights, MD, will be recognized next month by a regional minority business certification, networking and advocacy group as one of the Washington, DC, area's "Top 100 Minority Business Enterprises."
Metro Laundry President Bernard Young and COO Steven Young (pictured above) are slated to participate in an Oct. 3 gala event at the MGM National Harbor in suburban Maryland celebrating the success of the 100 largest and most successful minority-owned businesses in Washington DC, Maryland and Northern Virginia. As it happens, Metro Laundry also provides the casino property with hospitality and food-and-beverage linens on a customer-owned goods basis.
Steven Young said his family and the entire team at Metro Laundry are honored to make the top 100 minority-owned business list, which reflects the company's rapid growth since its founding in 2003. "It's definitely something we're proud of," he says. "Because we know we're one of the few. We're the only (minority-owned laundry) in this area. So that's something we definitely hang our hat on."
The 38th Annual Leaders & Legends Award Ceremony program is sponsored by the Capital Region Minority Supplier Development Council (CRMSDC). The mission of this organization – one of 24 regional affiliates of the National Minority Supplier Development Council – is to help corporate members diversify their supply chains by linking them with well-developed, certified minority-owned business enterprises.
To learn more about the CRMSDC's Top 100 program, click here.