Midwest Member Visits Underscore COVID Challenges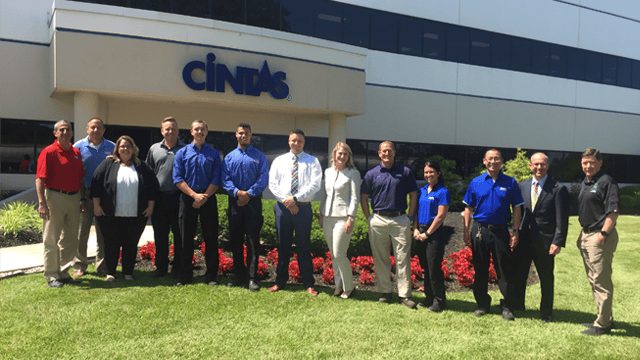 As the minivan odometer approached 2,700 miles and the Midwest leg of TRSA's Reopening Tour ended, conclusions could be drawn regarding the industry's resilience as it emerges from the difficult days of the COVID-19 pandemic. TRSA staff meetings with representatives of 24 member companies from June 20-30 in eight U.S. states revealed their common challenges and the varying approaches they're applying to contend with labor and supply shortages. TRSA staff members on the tour were encouraged similarly as they were in their late April swing through the Southeast, where they met with 17 companies and covered 2,500 miles. Still, while the worst of the pandemic was two months farther back in the rearview mirror, the coping strategies remained essential.
Getting enough help. While many operators reported revenues on the way to returning to or near pre-COVID levels, almost all indicated they had yet to hire and retain enough employees to handle such a workload. Many were hopeful that their states' timetables for rolling back extended unemployment compensation benefits before the September federal deadline for doing so would have a positive impact. Some had increased pay.
Those faring best had the good fortune of weathering the pandemic by experiencing minimal revenue loss, thanks to customers in essential healthcare and industrial businesses. These operators were better positioned to avoid layoffs and shed unprofitable customers. Still, in most of these cases, managers were still saddled with filling job vacancies and getting new hires to come to work. Providing good pay and benefits, including the comforts of an employee-friendly workplace were seen as the best hope for retention.
Vaccinating more employees. Most members reported more than half of their employees agreeing to be inoculated but hitting a ceiling below 100%. Nearly all shied away from making this a requirement. A bulk healthcare laundry reported reaching 100% by scheduling vaccination appointments for workers and driving them to these. Others said they did the same but still couldn't break through the ceiling.
Building efficiencies. Many of the visited laundries displayed at least one machine brought online in the past year or two that had helped increase productivity. These additions largely were not COVID-prompted but have helped their owners keep operator work hours under control as the labor market has constricted.
Videos and photos from the Reopening Tour are viewable on TRSA's Facebook, Instagram, LinkedIn and Twitter pages; the same goes for followers of the social media accounts of Joseph Ricci, TRSA president and CEO; and Kevin Schwalb, TRSA's vice president of government relations.
The TRSA posts reflect members sharing their experience in COVID-19 recovery, including vaccination strategy and employee-recruiting strategies. Videos, found on the TRSA Facebook and LinkedIn pages, include interviews with member company employees describing their work experiences, providing an opportunity for companies to share the links and use these videos for recruiting.
TRSA staff members on the Midwest leg of the tour included Ricci, Schwalb, Vice President of Operations Tom Newell and Ken Koepper, director of membership and customer outreach, who met with the following companies:
CleanCare, Pittsburgh
NOVO Paris Healthcare, Ravenna, OH
R.W. Martin, Kent, OH
Rentwear, North Canton, OH
Morgan Services, Cleveland and Chicago
Miller's Textile Services, Wapakoneta, OH
Economy Linen, Dayton, OH
WSI, Loveland, OH
Cintas Corp., Milford, OH
Alsco Uniforms, Indianapolis and St. Louis
Plymate, Shelbyville, IN
Crown Linen, St. Louis
Clean Uniform, St. Louis
Linen King, Columbia, MO
Midwest Healthcare Linen Services, Des Moines, IA
CITY Laundering Co., Oelwein, IA
Textile Care Services, Rochester, MN
Kannegiesser ETECH, Minneapolis, MN
St. Croix Linen, St. Paul, MN
Huebsch Services, Eau Claire, WI
Gunderson Uniform & Linen, Menasha, WI
Girbau North America, Oshkosh, WI
Chicago Dryer Co., Chicago
Tingue, Brown & Co., Skokie, IL