Miller's Textile Services – Celebrating Service & Teamwork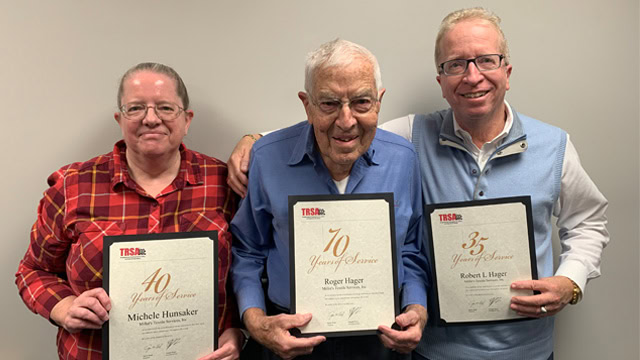 Miller's Textile Services, Wapakoneta, OH, recently shared information on new programs they've pursued involving recognition and teamwork, according to Andrew Thornbury, vice president of operations for this Ohio-based uniform and food and beverage laundry company.
One initiative Thornbury described was an effort to recognize staff with perfect attendance records. "We recently had an inaugural celebration luncheon for production employees who achieved perfect attendance throughout 2019," Thornbury said in an e-mail to Textile Services Weekly. "One-third of our hourly production employees with one or more years of seniority achieved this milestone! The celebration was so well received that we are expanding it companywide for FY 2020."
Another program Miller's has pursued to build loyalty and trust among the staff was participating in an "escape room" team-building exercise. Available in most cities, escape room programs place a group of people in a locked room that's loaded with clues (and usually a phone to ask for help) that will lead the team to find a way out of the room in a set period of time. The exercise is designed to be both fun and challenging. Thornbury said the Miller's Textile Services group responded well to the challenge of collaborating to "escape" from the locked room. "This multishift team communicated and worked together successfully to achieve the puzzle-based goal of escaping from the room before the clock ran out (and evidently broke the record for doing so)," he said. "It is important to remember to have fun, while working hard toward common goals … and to think outside the box. Not all training needs to be presentation/classroom bound!"
A third initiative involved recognizing staff who've received TRSA Service Awards for career longevity. The association's service awards feature certificates that are available to any employee of a member company that has achieved at least 25 years of industry service. Thereafter, subsequent service awards are available for every additional five years that an employee completes in the industry. For those rare individuals who reach the 50-year milestone, TRSA provides an engraved plaque recognizing their lifetime of service.
Miller's Textile Services had a total of 14 service award winners in 2019, including longtime owner Roger Hager, who was recognized for 70 years of service to the industry. Hager was the most senior individual among all companies receiving service awards last year. Others included three 40-year employees: Michele Hunsaker, Michael Dunn and Wayne Patton. Hager's son Bob, who is president of the company, marked his 35th year of service in 2019, along with Daniel Tobin. Four other staff members were recognized for 30 years of service and four more marked their 25th year of service in 2019. Click here to nominate your employees with 25, 30, 35, 40 or more years of experience for TRSA service awards. Then, like Miller's Textile Services, you can celebrate their long and productive careers with photos and other honors!