Milliken CEO Shares Thoughts on the Circular Economy at DC Forum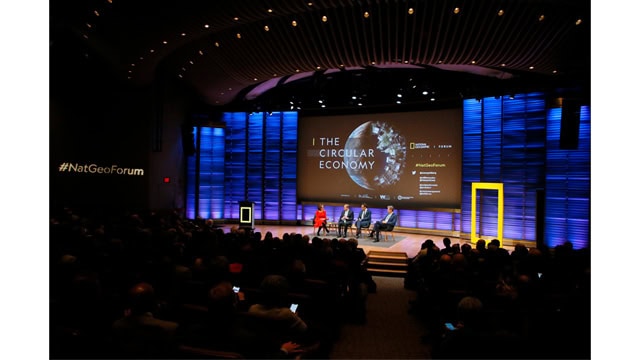 Halsey M. Cook, president and CEO of Milliken & Co., Spartanburg, SC, recently appeared as a panelist in a discussion about sustainable practices at the National Geographic Circular Economy Forum in Washington, DC. Milliken was a sponsor of the forum, alongside Waste Management and the Ellen MacArthur Foundation, which convened approximately 400 thought leaders, to explore solutions for eliminating waste.
"Closing the loop on waste requires a holistic plan," Cook said. "We're committed to forums and conversations that will lead to aligned, sustainable innovations."
Cook was a member of the panel titled "Leading Disruption," along with Jacob Duer, CEO, The Alliance to End Plastic Waste, and Jim Fish, CEO, Waste Management. The panel was moderated by Susan Goldberg, the editorial director of National Geographic Partners and Editor in Chief, National Geographic. The panel tackled topics such as what are the barriers and enablers of a circular economy, how businesses can disrupt the current linear economic model of "take, make, waste" and accelerate the ideas and principles of a circular economy. They also discussed how CEOs and C-suite executives can lead this transformation, among other topics.
Other panels at the National Geographic Forum included Cities as Metabolisms: Is Zero Waste Possible? and Re-Thinking End-of-Life Solutions for Plastic. Andrew Morlet, CEO, Ellen MacArthur Foundation, gave a keynote speech on sustainability and the circular economy to kick off the Feb. 26 event. The forum concluded with a networking reception for attendees.
Milliken's materials science expertise can help catalyze collaborations around waste, especially focusing on the end-of-life plastics challenge – a key emphasis of its 2025 sustainability goals. The forum convened leaders spanning industry, nongovernmental organizations and government for a multifaceted-solutions approach to achieve zero waste.
"Our aim is to make the manufacturing of recycled goods more effective," said David Moody, Ph.D., president of Milliken's Chemical Division. "But Milliken cannot do this work alone. The leaders who came together today will undoubtedly be a part of the solution."
The National Geographic forum is helping to spark collaboration and inspire innovations across stakeholders, value chains and industries. Milliken hopes to play a critical role in redefining sustainability for manufacturing and positively impact the world through R&D-driven innovations, according to a news release.
The forum, which was live streamed, can now be viewed at https://www.nationalgeographic.com/circular-economy-2020/livestream/.