Minnesota Star: Cintas Gets Safety Designation at Eagan Facility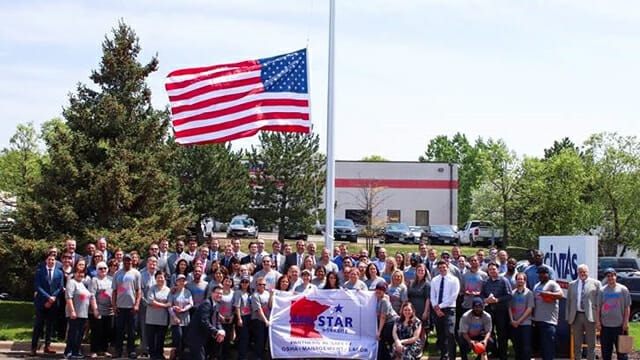 Cintas Corp. recently announced that its uniform rental location in Eagan received Minnesota Star (MNSTAR) certification from the Minnesota Occupational Safety and Health Administration (MNOSHA). The announcement took place during a ceremony at the Cintas' facility that was attended by Ken Peterson, commissioner of the Minnesota Department of Labor and Industry.
"A safe workplace is crucial to the success of our entire facility," said Brad Newton, general manager at Cintas in Eagan. "We're proud to accomplish MNSTAR certification and remain committed to sustaining this high level of safety performance."
Approximately 155 employee-partners work at the uniform rental facility in Eagan. The location officially began the VPP process in 2014 and received mentorship from safety leaders at the Maple Grove Cintas location.
The Minnesota Star program is MNOSHA's highest recognition for the practice of and commitment to exemplary occupational safety and health. Minnesota Star certification is earned by businesses who meet very rigorous safety requirements and can prove that the elimination of injuries is a key component of a company's culture.
Since 2011, a total of 81 Cintas' facilities have been recognized under the VPP program. Cintas is currently ranked second in the entire nation for companies with VPP sites. Cintas has approximately 250 facilities worldwide actively pursuing VPP recognition by OSHA or the equivalent under a similar certifying body. This includes operations in the U.S., Canada, Mexico and Honduras.