Mission Linen Celebrates Employee's 65 Years of Service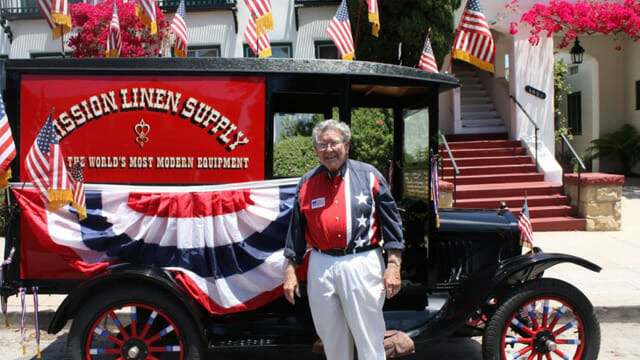 Mission Linen Supply recently thanked David Taggart for 65 years of dedication to the company with a celebration in his honor at its headquarters in Santa Barbara, CA, according to news reports.
Hired in 1954, Taggart has been a Mission Linen Supply employee ever since. Taggart was hired by Mission Linen Supply's founder George Page in April 1954 at the age of 17.
Taggart began his Mission career working as an extractor in the production department. Over the years, he has been involved in a variety of projects and roles at the company, including vendor selection, quality control, inventory management, manufacturing, cut-and-sew operations, warehouse design, site selection, and transportation. Taggart currently serves as warehouse manager in the purchasing department, assisted by his longtime co-worker George Hernandez.
"It's an honor and a joy to be part of the Mission team," Taggart said. "I look forward to coming to work every day, and I am tremendously grateful for all the wonderful people I have met over the years, as well as to Mr. Page for giving me the opportunity to join such a terrific company."
The lunch celebration consisted of Taggart's favorite Chinese food, along with a decorated cake inspired by his meticulous care of the company's 1923 Ford Model T that can be seen year after year in local parades and car shows, and a slideshow showcasing his many adventures and accomplishments.
To read the full article, click here.