Mission Linen Promotes Champagne to VP Role
Mission Linen Supply, Santa Barbara, CA, recently promoted Brad Champagne to vice president of human resources. In his new role, Champagne oversees all human resources responsibilities, including compensation, benefits, learning and development, and recruiting, according to a news release.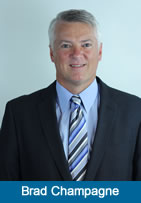 Champagne first joined Mission in 1991 as a management trainee, and by 1994, he was promoted to corporate safety inspector and developed several new safety programs that are still in use. He moved into the human resources department in 1996, where he quickly rose through the ranks, eventually earning his senior director role, and now, the vice president position.
During his time at Mission, Champagne has been instrumental in increasing automation across human resources functions, developing effective employee compensation plans, establishing key business metrics, and implementing company-specific e-learning programs to help employees better understand compliance, customer service, job duties and more.
"Brad is an exceptionally talented, hardworking individual, and a great fit for this role," said Mission's President and CEO John Ross. "He has a proven track record of success at Mission, and his tremendous experience and expertise leave him well-equipped to make a positive impact for both our company and our customers as he takes over his new responsibilities."
Champagne earned a bachelor's degree in business administration from Cal Poly San Luis Obispo, and obtained Senior Professional in Human Resources (SHPR) certification and a Society for Human Resources Management Senior Certified Professional (SHRM-SCP) designation. He is a recipient of the Pensions & Investments Eddy Award for Excellence in 401(k) Education, and he has served as both an expert speaker and panelist on various human resources topics.