Morgan Olson Gets Patent for 'Spring-Back' Bumper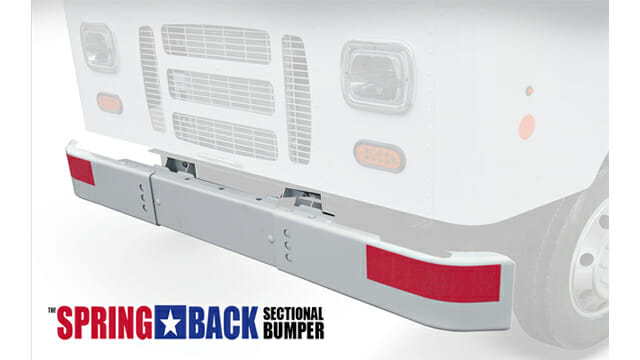 Morgan Olson, Sturgis, MI, a manufacturer of walk-in step vans across North America, recently received a patent for its new Spring-Back® front bumper design, according to a news release.
This new bumper design provides benefits to owners of fleets of all sizes, the release said. Specifically, the Spring-Back front bumper provides protection from low-impact, front-end contact by absorbing the energy from a collision and then springing back into place. This feature contributes to a 50% savings in replacement costs because traditional bumpers required operators to replace the entire bumper. With the new bumpers, operators need only replace a small section of the bumper after a minor collision, thus reducing material costs and repair expenses, the release said.
"Providing new intelligent body design features that reduce our customers' total cost of ownership has many benefits to the entire work truck industry," said Mark Hope, Morgan Olson's vice president of engineering & product development. "Designing new ways to improve our iconic walk-in step van body is no easy task … we've taken this newly patented product to a new level by putting it through testing to ensure the highest possible quality and performance." Click here to see a video demonstration of the new bumper.
Morgan Olson recently completed the largest walk-in van single order in American history (more than 6,500 package delivery units) that included the newly patented Spring-Back bumper. Morgan Olson is withholding the customer's name at their request.