New Era: UniFirst Unveils Redesigned Uniforms, Fleet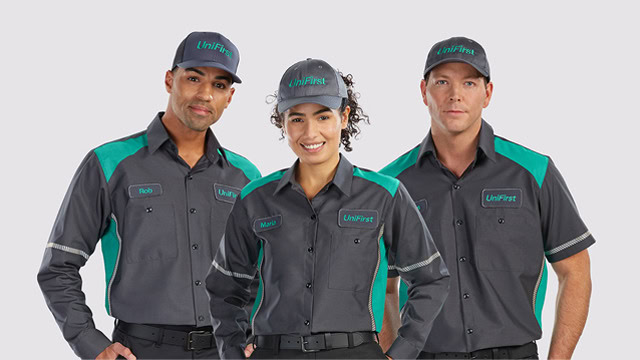 After a nearly two-year process that included input from staff and suppliers, plus ideas from corporate leadership and outside design experts, UniFirst Corp., Wilmington, MA, recently ushered in a new era for the industrial uniform sector with its introduction of redesigned and rebranded company vehicles and uniforms for route service representatives (RSRs), according to a news release.
"Every business day, UniFirst proudly outfits over two million workers from coast to coast, so we understand the importance of feeling confident and looking great in what you're wearing on the job," said UniFirst President and CEO Steven Sintros. "UniFirst RSRs are the face of our company, and we want them to feel as empowered as our uniform-wearing customers. So, we felt it was critical to take all the time required to develop all 'the right' uniform elements, while also involving our RSRs throughout every step of the process."
In fact, UniFirst included their RSRs in all phases of developing the new uniforms: from focus groups and conversations early on to open discussions and opinion sharing, to wearer trials and surveys for real-world feedback after donning prototype (test) uniforms while servicing customers.
In an interview with Textile Services Weekly, Sintros and UniFirst Executive Vice President Cynthia Croatti described the new signature charcoal and "UniFirst green" work shirts and black uniform pants as the opening element of a "brand refresh" effort, as well as the company's first RSR uniform redesign in 30 years. The start of the development process predated the COVID-19 pandemic and grew out of comments from drivers who had often inquired about the possibilities of new uniforms. "We just started talking more about freshening up our brand, and that really migrated into a bunch of different things," Sintros said. "It's gone further than we probably thought it would originally. It started with the uniforms because, quite honestly, I think the old uniforms just had become somewhat dated. We started with Cindy (Croatti) and the HR team at the time; they routinely have a lot of discussions out in the field with the employees, and it was something that kept coming up, that 'they would love new RSR uniforms.'"
Most UniFirst RSRs now have them, and within a few weeks a regional distribution program is expected to complete deliveries to all UniFirst route drivers with new garments that feature contemporary looks and fabrics, reflective striping, and other modern design features. Rebranding the trucks will take longer as older vehicles are retired, new ones are being brought online with the new paint and decal schemes. Other trucks in UniFirst's 3,000-4,000-vehicle fleet will be retrofitted to reflect the new designs. Roughly 40% of the fleet should be rebranded within a year.
Sintros said that the high visibility garments worn by construction crews and tow-truck drivers weren't necessary for route drivers because RSRs spend most of their time in their vehicles and indoors. The limited "enhanced visibility" material on the shirts will be helpful, however, when drivers are loading their trucks at the plant early in the morning, for example, he said.
In addition to modern stylings, comfort was a key consideration for the new garments, he said. Shirt styles include a polo design for summer and warmer climates, and long and short sleeve button-down designs for cooler weather (and for uniform options in any climate). "The new uniforms are all poly-blends," Sintros said. "We gave our route divers an option for a traditional poly-blend work shirt, but also a polo or golf shirt that's more of a high-performance wicking fabric. That shirt provides for more flexibility, as well as more breathability." Sintros added that what his team heard from employees is that they wanted options, including a comfortable shirt for hot weather.
The shirts are also designed to project an upscale image internally and to customers that communicates a message that UniFirst is not only a leading workwear provider across North America, but also a company that's on the cutting edge of workwear design. "When we started this process, we said, 'This could be a shot in the arm for the company,'" Sintros said. "And I think it is. People are excited about the uniforms.
As for customers, Sintros says projecting a modern look on its drivers sends an important message. "Part of our value proposition to our customers is that a uniform can provide that feeling of a team, that empowerment, feeling good about your company and your brand," he said. "I think that our brand refreshing is going to be an advantage for us, compared to alternative providers who may have an older, less-progressive look. I definitely think it's provided some excitement for our people, during a difficult time, when there's been a lot of restrictions and challenges due to COVID-19. I think this is a positive step." Click here for details on UniFirst's response to the COVID-19 pandemic
While the uniform makeover was planned independent of the pandemic, Croatti said the new uniforms are nonetheless reinforcing an idea that emerged during the lockdowns that uniform and facility service staff are considered "essential employees" who make a huge difference for thousands of businesses across North America. "I think (the pandemic) gave a different sense of purposefulness to our people and ourselves," she said. "We looked at ourselves differently, with more pride, because our workers, including our salespeople, worked every day during the pandemic, we never closed down. They came into work every day to support the people that support all of us."
Click here for more on UniFirst's new RSR uniform program.