New Germ-Fighting Healthcare Textiles Now Available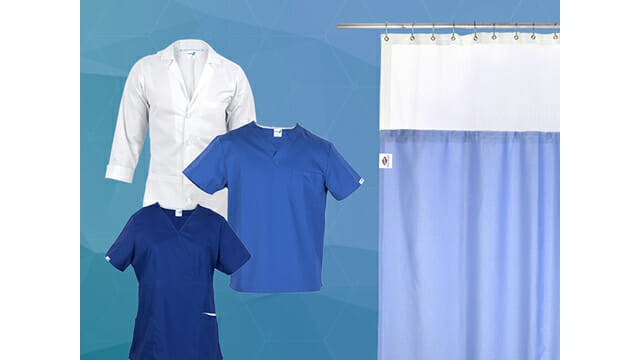 A team of two companies recently announced the availability of a new line of textile items for use in healthcare settings that will rely on the power of hypochlorite-based bleach to reduce the threat of hospital-acquired infections (HAIs), according to a news release.
Prime Medical, in partnership with Clorox Professional Products Co., is introducing hospital privacy curtains, scrubs and lab coats that harness the sanitizing effects of sodium hypochlorite-based bleach to help make "soft surfaces" in healthcare settings part of the solution to controlling HAIs.
"The fabric of our privacy curtains, scrubs and lab coats will provide another tool for those in the healthcare environment to fight HAIs, making soft surfaces an asset, rather than a liability," said Jim Sampey, CEO of Prime Medical. "Together, Prime Medical and Clorox Professional Products Company will fight HAIs and change the fabric of healthcare."
The new Prime Medical privacy curtains, scrubs and lab coats will feature Clorox Healthcare™ and CloroxPro™ brand technology that will provide unprecedented bactericidal protection, leading to safer patient environments, the release said. The fabric works by enabling bacteria-fighting molecules to bind to the fabric's surface for up to 12 weeks after washing with bleach, thus inhibiting the growth and spread of viruses. The fabric recharges during each washing, and the antimicrobial capability is durable for a minimum of 75 industrial washes.
When laundered according to the label instructions with the EPA-registered bleach, lab tests have shown that the activated fabric can kill bacteria and viruses with 99.9% effectiveness, according to the fabric's manufacturer, which relied on laboratory conditions using the AATCC 100 test method. What this means is that as healthcare providers move between patient rooms, they can reduce the risk of spreading unseen pathogens via their scrubs and lab coats, the release said. As for privacy curtains that often are touched – but in many cases seldom changed – the fabric's antimicrobial capability provides an additional layer of protection to prevent the spread of bacteria and viruses.
The Clorox Healthcare privacy curtains will be available starting in December, while the CloroxPro scrubs and lab coats will follow in February 2019. For more information, contact Amy Rohn of Prime Medical at 608.251.7070 or arohn@lsb.com; or Brad Ferris of CloroxPro at brad.ferris@clorox.com.