NOVO Featured on Local News Broadcast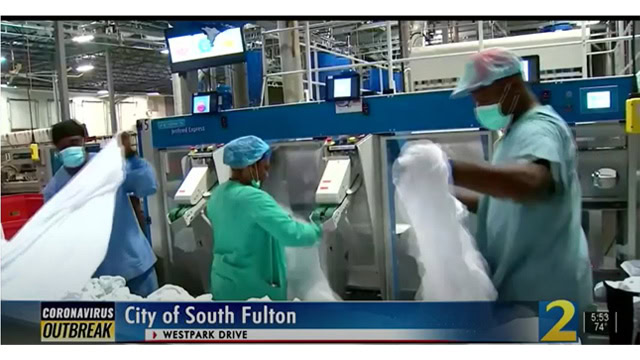 TRSA operator member NOVO Health Services, Atlanta, recently was featured on a broadcast by its local ABC affiliate WSB-TV 2 to discuss the company's operations amid the COVID-19 pandemic.
Karl Fillip, CEO, and Karl Fillip II, COO, gave the news team a tour of its Atlanta-area facility, and sat down with WSB-TV reporter Tony Thomas to discuss supply chain issues such as shortages of isolation gowns, the benefits of reusables versus disposables and more.
To view the full video of the news broadcast, click
here
. For more insights from Fillip II about COVID-19 and more, click
here
to read a recent question-and-answer session he had with
Textile Services Weekly
.
TRSA has provided media outreach on behalf of its members in several markets nationwide. Local news has picked up stories in Dallas-Fort Worth and Atlanta, with upcoming stories expected in Raleigh, NC, and Nashville, among others. If you'd like your facility featured on the local news, contact Joseph Ricci at jricci@trsa.org.