NYT Video: What Happens to Dirty Restaurant Linens?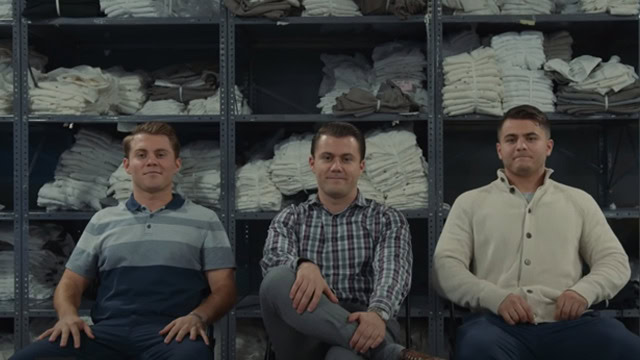 A New York Times video recently served up a positive portrayal of a TRSA operator member in a documentary dubbed "Where NYC Restaurants Send Their Dirty Linen." This 16-minute program on Arrow Linen Supply Co. Inc., Garden City, NY, offered an overview of processing and distributing linens and garments for food-and-beverage (F&B) outlets throughout the New York metro area.
Priya Krishna, a "food reporter" for the Times, "oohed" and "aahed" as she entered the high-tech 72,000-square-foot (6,689-square-meter) plant with its many pieces of modern machinery. Equipment and systems included tunnel washers, automatic folding equipment, chemical-injection and more. "It's like Willie Wonka but for laundry" Krishna quipped near the outset of the documentary. During a plant tour led by Arrow Linen Production Manager Mike Conk, she added, "This is so freaking cool!"
Did viewers share Krishna's enthusiasm for Arrow's F&B laundry facility? Apparently so: A total of 999,234 viewers tuned into the program that initially aired on Jan. 28. The documentary included an interview with CEO John Magliocco. His father founded Arrow Linen in 1947. Magliocco demurred when Krishna asked if he's known around the plant as "The Godfather." But his son, Arrow President John Magliocco Sr., quipped that "Everyone just calls him boss." The elder Magliocco joined the company at his family's urging after his discharge from the U.S. Army at the end of the Korean War.
Viewers also met the fourth generation of Maglioccos. These included General Manager Anthony, Office Manager John Jr. and Assistant Operations Manager Joseph. They joked about playing on plant machinery as kids and youthful hijinks such as tying rubber bands to desk drawers. All three are carrying on the Arrow family leadership tradition. These next-gen execs help manage the business, including boosting the company's robust presence on social media. Krishna asked the trio about succession, but they were noncommittal, beyond saying they want to build on the foundation set by those who came before them.
The documentary featured interviews with nonfamily staff as well. Examples included route service representatives Anthony McCready and Analdys Jaquez Aracena. They described the process of picking up soiled goods at restaurants and dropping off clean items. A production employee, Ingrid Berrera, described moving goods through the folding equipment. A co-worker, Sylvia Romero Hernandez said (in translated Spanish) that, "I've worked at other laundries. It was not the same treatment that I get here." John, the CEO, said Arrow employees are like one big family.
Conk cited the "tight bonds" that develop between many employees in the plant. This sense of teamwork helped the staff get through the recent COVID-19 pandemic when business dropped by 90%. Today Arrow has made significant progress in recovering from the COVID downturn. The video noted that Arrow is currently processing roughly 400,000 lbs. per week for more than 3,000 customers.
This documentary gives an informative and thought-provoking look at Arrow and – by extension – the industry at large. But don't take our word for it. Click here to see "Where New York City Restaurants Send Their Dirty Linen" and judge for yourself.