Operators Report Record Revenues in Latest Survey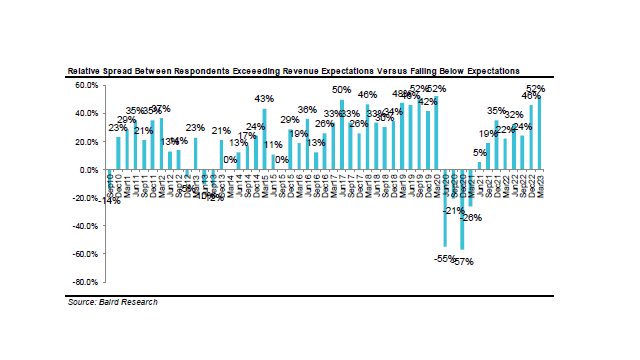 Robert W. Baird & Co. and TRSA recently released the results of their First-Quarter 2023 Uniform & Linen Rental Survey. A record percentage of survey respondents on both the uniform and linen rental side of the business reported revenues meeting or exceeding their expectations in the first quarter.
Survey participants include senior executives at linen, uniform and facility services companies across the United States, with some operations in Canada and other international locations. The total response pool includes nearly 500 independent firms.
Key uniform rental survey findings include:
Rental Revenue Trends. 56% of respondents beat their internal revenue expectations for the quarter with only 4% of respondents falling short. This is a survey record spread.
Add/Stops. Employment-driven expansion at existing accounts (i.e., Add/Stop Diffusion Index) held in positive territory at 56, improving from 54 last quarter and consistently positive for three years. This matches consistently strong labor reports. Employment-driven gains at existing accounts are typically the most profitable source of revenue growth.
No-Programmers. The no-programmer (new customers without an existing uniform program) diffusion index dipped slightly (48) but remains generally neutral.
Growth Outlook. Respondents expecting +6.6% organic growth over the next 12 months with 25% of respondents expecting "greater than 9%" growth. This is easily a survey record.
Key linen rental survey findings include:
Rental Revenue Trends. 60% of respondents cited rental revenue trends above expectations with 36% in line. 4% fell short. Relative spread again at/near record.
No-Programmers. No-programmer interest remained solidly positive at 60.4 and improved from last quarter's 59.3 reading. The index has been in expansionary territory since dipping negative in 2020.
Growth Outlook. Forecasted 12-month revenue outlook increased to +6.2% and remains near the prior quarter's record gains in the roughly 6-7% range.
Click here to view the full report. If you have any questions or comments, or would like to participate in the survey going forward, contact Baird Senior Analyst Andrew Wittmann at awittmann@rwbaird.com or Senior Research Associate Justin Hauke at jhauke@rwbaird.com.