Operators, Suppliers Respond to Houston Flood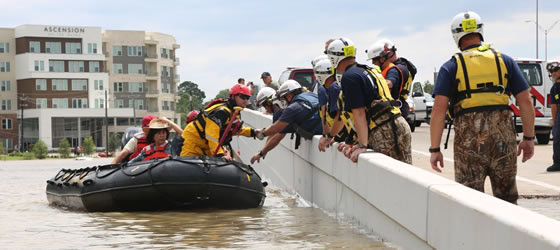 Photo Credit: FEMA News Photo
Operators and suppliers are working around the clock this week to restore laundry and linen services as quickly as possible in the wake of Hurricane/Tropical Storm Harvey.
The storm arrived as a Category 4 hurricane on the night of Aug. 25. It quickly was downgraded to a Tropical Storm, but continued to batter the city of Houston and surrounding areas with 20-plus inches of rain. Many laundries in the city have remained closed because they lost power or employees were unable to get through flooded streets. Jacy Henderson of Triple D Laundry in Houston said he hopes to resume operations on Aug. 31. Contacted Wednesday, Henderson was cautiously optimistic. "We weathered the storm fairly well as a company," he said. "We did, however, have some employees with extensive flood damage to their homes. Please keep all of them in your prayers as we continue the cleanup process. Triple D is going to attempt to try and resume business in some form or fashion tomorrow morning."
Laundries outside of Houston may have for the most part escaped the flood conditions, but their ability to get linens into the city or other areas of Texas affected by the storm, is limited. Pat Garcia, president of Division Laundry in San Antonio, said his drivers have had success in most cases despite the severe weather conditions. "We were asked to help move an influx of new linens into Houston," Garcia said. "We are assisting all that we can to help." The situation outside of Houston is somewhat less challenging, he added, noting that hospitals in Austin, Corpus Christi and San Antonio are more accessible.
In Houston, employees either can't get to work due to flooding, and/or the plants have lost power or are themselves flooded. "I spoke with owner/operators and/or key management of several laundries in Houston and most of the problem is they can't get enough manpower to operate their plants and fleets, let alone how do you retrieve soiled linen when you can't get to it?" Garcia said. "Several plants are flooded. One plant has no power."
At least one hospital group, HCA Corp., was considering delivering linens by helicopter if conditions don't improve soon, said Steve Rogers, who was attending TRSA's Aug 29-31 Canadian Plant Tours and Roundtable in Toronto. Rogers had to miss part of that event as he worked by phone and e-mail to try to expedite delivery of 40 pallets of linen from Dallas to Austin via tractor trailers. "Their plan was for HCA to helicopter in the clean linen to those hospitals that needed that service, or send to it Texas laundries to distribute," he said.
The storm made a second landfall in Louisiana on Wednesday. It's now expected to move northeast, bringing heavy rains to Louisiana and neighboring Arkansas and Mississippi, as well as Tennessee and Kentucky. Weather conditions in Houston are expected to improve on Thursday, Aug. 31. As conditions in Houston stabilize, it's likely that laundry and hospital delivery systems will gradually begin moving toward normal operations in the days and weeks to come.
Meanwhile, the storm has required Texas authorities to mount 8,500 rescues and 26,000 evacuations. A force of 14,000 Texas National Guard troops have deployed to flood-affected areas, and Gov. Greg Abbott is seeking more National Guard troops from other states to assist.
The storm has claimed 20 lives, including that of a police officer who drowned while trying to drive to work. While it's stopped raining in Houston, many areas remain impassible and 10,000 people are sheltering in the George R. Brown Convention Center, according to news reports. Many homes are inundated with six feet or more of water and may have to be demolished, the reports said. Click here for details.