OSHA Enforcers Rethink Corporate Accolades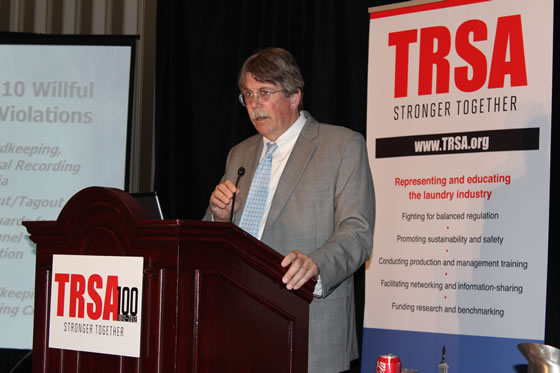 Recognition programs for voluntary improvement under high scrutiny
PRESS RELEASE
TRSA Washington Conference Report, Day 1 Safety compliance, industry political strategy highlight discussions -3/28/12
View Fairfax Presentation Webcast
OSHA's enforcement chief told TRSA members on March 27 that the agency is "struggling" with incentive programs that recognize employers for exemplary efforts in preventing workplace injuries and illnesses. Limited resources have prevented OSHA from expanding these efforts after they grew significantly in recent years, said Richard E. Fairfax, deputy assistant U.S. labor secretary.
Speaking to TRSA's Leadership & Legislative Conference in Washington, Fairfax said President George W. Bush's administration allowed these initiatives (such as the Voluntary Protection Program) to grow so quickly that the agency is having difficulty keeping up with them. In more recent years, OSHA has concentrated on evaluating their effectiveness. "I think the world of the program," Fairfax said of the VPP, but he indicated that such endeavors may need better quality control.
The VPP, Safety & Health Achievement and Recognition Program (SHARP) and other honors awarded to employers including many in the textile services industry are under evaluation by an OSHA team Fairfax appointed last summer. "I told them to take as long as they want, to do a top to bottom review," he said.
In the meantime, he urged employers to take advantage of other compliance assistance programs, such as the free OSHA consultation service for companies with 250 workers or less. Agency personnel who visit a business and find violations don't notify the federal office of these unless the location's management refuses to fix them. This program saw a budget increase in 2011, Fairfax noted. Each OSHA area office employs a compliance assistance specialist who performs these inspections.
"Our senior and best compliance officers have moved into those positions," he explained. "They're not allowed to do anything in enforcement." They exist for training and outreach and usually "all it takes is a phone call to the office" to involve them in a voluntary compliance effort.
Fairfax also pointed out that the agency hopes to increase its use of private-sector safety pros to help with other employers' preventive efforts. In this special government employee (SGE) program, such an individual receives three days of free OSHA training, then participates annually as a member of an OSHA team evaluating other companies' safety procedures. The agency wants to increase the number of SGEs who can help permanent OSHA staff work with employers in preventive efforts.
The deputy assistant secretary's presentation to TRSA included numerous statistics on the agency's enforcement activities in 2011, such as a leveling of inspection totals from the prior year (down about 300 to 40,600) and a decline in violations by 6,000 to a total of 91,000. The textile services business had no willful or repeat violations, a rarity among industries, Fairfax said.
Those findings are consistent with TRSA's SafeTRSATM education and benchmarking program, which has logged results of improved safety practices among member companies during the past five years:
42% reduction in Total Recordable Injuries and Illnesses Rate (TRIR)
1/3 reduction in DART Rate (Days Away from Work, Restrictions or Transfers)
Most recent annual improvement of 5% in TRIR and 2.5% in DART rate

About TRSA and the Textile Services Industry
Based in Alexandria, VA, TRSA represents the $16-billion textile services industry that employs nearly 200,000 people at more than 2,000 facilities nationwide. These companies provide laundered textiles and other products and services that help businesses project a clean and attractive public image. The industry reaches every major business and industrial region, congressional district and city in the country. Most Americans benefit at least once a week from the cleanliness and safety provided by the industry – through its laundering and delivery of reusable linens, uniforms, towels, mats and other products for the healthcare, hospitality and industrial/manufacturing sectors. TRSA member companies' services minimize environmental impacts on air, water and solid waste disposal while reducing costs for millions of customers.